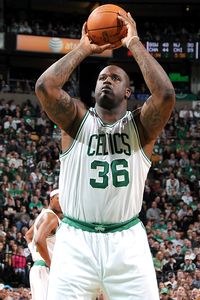 Steve Babineau/NBAE/Getty
Shaquille O'Neal polished off an amazing career with the Celtics.The research team at ESPN Stats and Info put together an amazing collection of stats and numbers chronicling the career -- both on the court and off -- for Shaquille O'Neal. Check out O'Neal's impact on the game:
**Shaquille O'Neal is retiring after 19 NBA seasons. O'Neal is retiring with the fifth-most points scored in NBA history. In addition, O'Neal has scored 5,250 postseason points in his career, fourth-most all-time:
Most Career Points (NBA History)
Kareem Abdul-Jabbar 38,387
Karl Malone 36,928
Michael Jordan 32,292
Wilt Chamberlain 31,419
Shaquille O'Neal 28,596
Most Postseason Points (NBA History)
Michael Jordan 5,987
Kareem Abdul-Jabbar 5,762
Kobe Bryant 5,280
Shaquille O'Neal 5,250
Karl Malone 4,761
**Shaquille O'Neal was one of the most efficient players in NBA history:
Highest Player Efficiency Rating (NBA History)
Michael Jordan 27.9
LeBron James 26.9
Shaquille O'Neal 26.4
David Robinson 26.2
Wilt Chamberlain 26.1
**Shaquille O'Neal was selected to 15 All-Star Games, playing in 12. Only one player in NBA history has been selected to more All-Star Games.
Most All-Star Selections (NBA History)
Kareem Abdul-Jabbar 19
Shaquille O'Neal 15
Michael Jordan 14
Jerry West 14
Karl Malone 14
>source: Elias Sports Bureau
**Shaquille O'Neal was an MVP (1999-00), Finals MVP (2000, 2001, 2002), All-Star Game MVP (2000, 2004, 2009) and NBA Champion (2000, 2001, 2002, 2006). He won each of those in the 1999-00 season, making that season pretty unique in NBA lore. Those to accomplish that same feat:
Michael Jordan 1997-98 Bulls
Michael Jordan 1995-96 Bulls
Willis Reed 1969-70 Knicks
The only player who has won more Finals MVP awards is Michael Jordan (6).
Most NBA Finals MVP Awards (All-Time)
Michael Jordan 6
Shaquille O'Neal 3
Magic Johnson 3
>Award has existed since 1969 Finals
**Shaquille O'Neal was the No. 1 overall pick in the 1992 NBA Draft by the Magic and won Rookie of the Year. O'Neal played for the Magic, Lakers, Heat, Cavaliers, Suns and Celtics. O'Neal played for six different franchises in his career. The only No. 1 overall picks who have played for more franchises in their careers are Joe Smith (12) and Danny Manning (7).
O'Neal has had 170 different teammates, according to the Elias Sports Bureau. Thirty of those players were named All-Stars, including Penny Hardaway, Kobe Bryant, Dwyane Wade, Steve Nash and Kevin Garnett.
**For his career, Shaquille O'Neal averaged 23.7 points and 10.9 rebounds per game. O'Neal had 13 seasons averaging 20 points and 10 rebounds, most in NBA history.
Most Seasons With 20 PPG and 10 RPG (NBA history)
Shaquille O'Neal 13
Kareem Abdul-Jabbar 12
Wilt Chamberlain 12
**Shaquille O'Neal has led the NBA in field goal percentage 10 times. That's the most times a single player has led the league in that category in NBA history. Wilt Chamberlain led the league in that category nine times.
O'Neal's career field goal percentage is 58.2%, second-highest in NBA history (Artis Gilmore).
**Shaquille O'Neal played in 1,207 regular season games in his career, 23rd most in NBA history. He played in 216 postseason games, third most in NBA history.
**Shaquille O'Neal shot 52.7% from the free throw line for his career. That is the third-lowest free throw percentage in NBA history (min. 2,000 FTA). Only Wilt Chamberlain and Ben Wallace are worse.
Worst FT Percentage (NBA History)
Ben Wallace 41.5
Wilt Chamberlain 51.1
Shaquille O'Neal 52.7
**Shaquille O'Neal was born on March 6, 1972. This season, he was the oldest player in the NBA. The oldest active player now becomes Kurt Thomas, who was born Oct. 4, 1972, one day before Grant Hill.
**Shaquille O'Neal acquired a number of nicknames throughout his career. Some like 'The Big Aristotle,' were self-styled. Enclosed are the most prominent of those nicknames:
Notable Shaquille O'Neal Nicknames
The Big Diesel
The Big Aristotle
Superman
The Big Shaqtus
The Big Shamrock
**Shaquille O'Neal was quite the entertainer. He has appeared as himself on more than 100 movies and television shows, including shows such as Saturday Night Live, Who Wants to Be a Millionaire, WWE Monday Night Raw and Curb Your Enthusiasm. O'Neal has been the star of shows such as Shaq VS and Shaq's Big Challenge.
He was a central character in three movies: Blue Chips, Kazaam and Steel.
Movies Shaq Starred In (Year and Role)
Blue Chips -- 1994 -- Neon
Kazaam -- 1996 -- Kazaam
Steel -- 1997 -- John Henry Irons/Steel
Shaquille O'Neal has twice been nominated for a Razzie Award, once as Worst New Star in 1995 for Blue Chips and once as Worst Actor in 1998 for Steel.
Shaquille O'Neal has also released four studio rap albums:
Album, year, status
Shaq Diesel 1993<
Shaq Fu: Da Return 1994<<
You Can't Stop the Reign 1996
Respect 1998
>RIAA Certified Platinum
>>RIAA Certified Gold
Shaquille O'Neal made his rap debut in 1993 as a guest on the song "What's Up Doc? (Can We Rock)" by the Fu-Schnickens. The song was certified gold by the RIAA.