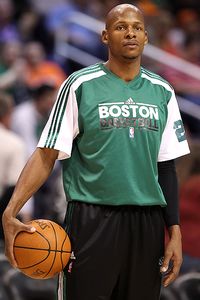 Christian Petersen/Getty Images
Was trading for Ray Allen the best draft day move by Danny Ainge?With the 25th and 55th overall selections in the 2011 NBA Draft, Celtics general manager Danny Ainge and his staff have been working for weeks assessing the talent that could potentially be available to them. The Celtics held their first pre-draft workout on Wednesday (a power forward-heavy event) at the Sports Authority Training Center at HealthPoint -- the latest opportunity for Ainge and Co. to narrow the field of potential draftees.
During his time as the man in charge of the identifying young talent for the Celtics, Ainge has put together a handful of strong drafts, selecting the likes of Al Jefferson, Delonte West, and Rajon Rondo. He's also never been afraid of draft day moves like the ones that saw the C's acquire the likes of Sebastian Telfair and Theo Ratliff in 2006 or Ray Allen in 2007. Here's a look back at five of Ainge's most successful drafts, in chronological order, during his time as Celtics president of basketball operations.
After you read about the top drafts, leave a note in the comments with which draft you think was the best of the bunch.
2004: Celtics draft Jefferson, West, Allen, and Reed
It's rare for a general manager to pick up a franchise cornerstone as well as two legitimate role players in the same draft, but Ainge was on his game seven years ago when he selected a scrawny kid named Al Jefferson out of Prentiss High School in Mississippi with the 15th overall pick, as well as Delonte West out of St. Joseph's and Tony Allen out of Oklahoma State. Jefferson was regarded as an offensive wonder after averaging over 45 points per game during his senior year of high school, and he turned out to be an old school low post scorer with a steady array of jump hooks, upfakes, and up-and-unders. Jefferson was pegged as the Celtics' big man of the future, before becoming the centerpiece of Boston's package for Kevin Garnett in 2007. Today Jefferson's still on the All-Star bubble as a member of the Utah Jazz, which recently lost its longstanding stability when long-time coach Jerry Sloan retired and All-Star point guard Deron Williams was traded. West's gritty playing style was adored by Boston fans immediately, while the super-athletic Allen showed signs of promise, but always seemed to be hampered by knee injuries. Both have proven they can be consistent contributors on playoff teams with championship aspirations. Allen's one of the best on-the-ball defenders in the league playing for the Memphis Grizzlies (Ainge regrets not doing more to re-sign him as a free agent last summer), while West made a couple stops before coming back to Boston last September as a free agent, and was one of the Celtics' most consistent contributors in the Eastern Conference semifinals against the Miami Heat.
2005: Celtics draft Green, Gomes, and Greene
Gerald Green might have already cemented himself as an NBA castaway -- a player better know for dunking a basketball (even when tasty cupcakes are not involved) than playing good defense, but on draft day in 2005, he was projected as a potential lottery pick with Tracy McGrady-like talent and was seen as a steal when he fell into Boston's lap as the 18th overall selection. The Celtics were poised to pick a kid named Danny Granger, but the Indiana Pacers snatched him up with the 17th overall pick, and with Green still on the board, Ainge pulled the trigger. Green wasn't immediately strong enough to compete in the league, but he possessed all of the other raw physical abilities, and after two up-and-down seasons (with plenty of flashes of promise), Green was shipped to Minnesota in the Kevin Garnett deal. Today, Green is playing professionally in Russia. Ryan Gomes was a four-year standout at Providence College, but fell, surprisingly, all the way to No. 50. Ainge wasn't dismayed over Gomes being labeled as a "tweener" (not quite a small forward, but not quite a power forward), and swooped him up, setting off a trend of second-round draft day brilliance. Gomes proved to be an intelligent player from the start, fighting hard on the glass while honing his skills as a mid-range jump shooter. Like Green he was also traded to Minnesota in the Garnett deal, and today he's a productive member of the Los Angeles Clippers.
2006: Celtics acquire Telfair, Ratliff, Rondo, and Powe
Ainge has proven he isn't afraid to make deals on draft day, and with his club in need of an up-and-coming point guard on the night of the 2007 draft, he traded Raef LaFrentz, Dan Dickau, and the seventh overall pick in the draft (Randy Foye) to the Portland Trailblazers for point guard Sebastian Telfair, center Theo Ratliff, and a 2008 second-round pick. At the time it looked like Ainge had filled the point guard void, but little did we know that was still to come when he made what might be regarded as his most brilliant move. Ainge agreed to trade a future first-round draft pick in exchange for the draft rights to Kentucky point guard Rajon Rondo (No. 21 overall), along with Brian Grant and cash considerations. At the time the move wasn't met with much hype, but today, it looks like one of the better steals in the history of the draft. In only his second season, Rondo helped lead the Celtics to an NBA title in 2008, and remains the franchise's most important cornerstone moving forward. A two-time All-Star already, Rondo's value to the Celtics these days is no mystery. And we can't forget old friend Leon Powe, whose draft rights (No. 49 overall) the Celtics acquired from the Denver Nuggets on draft night that same year. Powe was a double-double machine during his two seasons at California, and his relentlessness (particularly on the glass) proved to be invaluable to the C's during their 2008 championship run.
2007: Celtics acquire Allen and Davis; Draft Pruitt
A year after making a host of draft day deals, Ainge was at it again, only this time, his moves immediately altered the course of his team. After posting a 24-58 record during the 2006-07 season, the Celtics didn't have any luck with the ping pong balls and fell to the fifth overall pick. Once it became clear the C's wouldn't have a chance of taking the drafts two gems in Kevin Durant and Greg Oden, Ainge went looking for ways to deal the pick. Seeking a veteran player to stick beside Paul Pierce, Ainge produced a blockbuster trade with the Seattle Supersonics that landed Boston then-seven-time All-Star Ray Allen, along with the 35th overall pick (which netted LSU star forward Glen "Big Baby" Davis). In exchange, the Celtics traded away fan favorite Delonte West (a move Ainge would later admit was very difficult), Wally Szczerbiak, a 2008 second-round pick and the rights to Jeff Green (the fifth overall pick). The move was dynamic (even if it wasn't immediately revered by all when it first happened), as it helped pave the way for the Kevin Garnett deal a month later. The rest, as they say, is history. The Celtics went on to win their 17th title in Allen and Garnett's first season with the club, and made a return to the Finals two seasons ago, falling minutes short of another championship.
2008: Celtics draft Giddens, Walker and Erden
With the Celtics fresh off winning their 17th world title, Ainge wasn't expected to add much via the draft, having only the No. 30 and 60 picks. He took a chance on 6-foot-5 J.R. Giddens out of New Mexico with the No. 30 pick, before making arguably his best move of the night by trading cash to the Washington Wizards for the promising 6-foot-6 Bill Walker, who fell all the way to No. 47 due to a right knee injury. Believing Walker could get healthy and revert back to being the explosive player he was at Kansas State, Ainge rolled the dice, before wrapping up the evening by selecting a 7-footer named Semih Erden, a native of Turkey. Today, Giddens finds himself toiling in the D-League, while Walker is thriving with the New York Knicks after being shipped there in last year's deadline deal that brought Nate Robinson to Boston in exchange for Giddens, Walker, and Eddie House. Erden, meanwhile, just completed his first NBA season, battling through injuries to fill in at center for the Celtics for the first half of the year before being traded to the Cleveland Cavaliers along with fellow rookie Luke Harangody to free roster space.
Remember to leave a vote for your favorite draft in the comments.
Greg Payne is a student intern for ESPNBoston.com