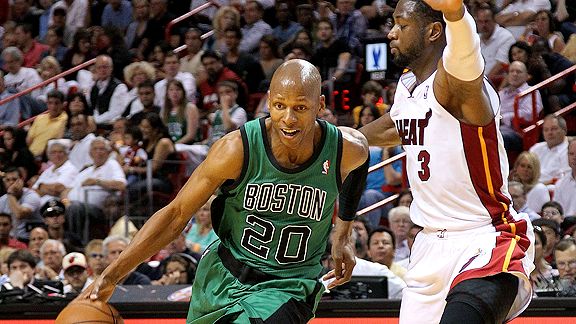 Mike Ehrmann/Getty Images
Boston guard Ray Allen formally executed his player option for the 2010-11 season Tuesday.As he suggested he would in the aftermath of Boston's season-ending Game 5 loss to the Miami Heat last month, Ray Allen on Tuesday formally exercised the second-year player option in the two-year deal he inked last offseason and will be back with the Celtics next season.
Allen inked a two-year, $20 million contract last summer and will earn $10 million again next season.
"This has been my team," Allen said at his postgame press conference in Miami after the Heat won an Eastern Conference semifinal series, 4-1. "I have been full steam ahead with this team. I don't have any plans to go anywhere else."
Allen, who will turn 36 next month, shot career bests of 49.1 percent from the floor overall and 44.4 percent from beyond the arc last season. Along the way, he shattered Reggie Miller's all-time record for 3-pointers made. For the 2010-11 season, Allen averaged 16.5 points, 3.4 rebounds, and 2.7 assists per game.
Forsberg's analysis: No surprise here. Allen said immediately after the 2010-11 season ended that he wanted another shot at a title with this core. Even at his advanced age, Allen continues to thrive (as his stats show) and he remains in better shape than players half his age. In fact, that $10 million price tag is a bit of a steal for what he's been able to contribute.