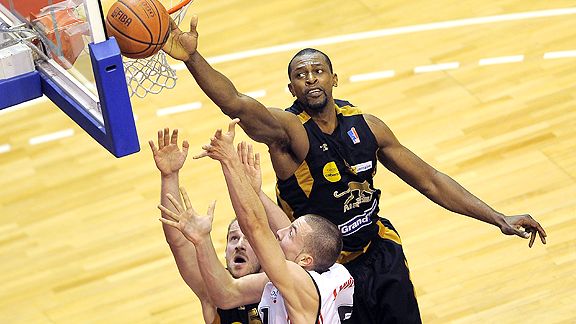 Jeff Pachouid/AFP/Getty Images
France's Joffrey Lauvergne was part of Boston's 11-man workout Tuesday in Waltham.The Boston Celtics worked out 11 players Tuesday, including Brazlian center Lucas Nogueira and French power forward Joffrey Lauvergne, during the team's latest pre-draft workout at the Sports Authority Training Center at HealthPoint.
Nogueira is the most intriguing of the bunch and the only one of the 11 currently pegged with first-round potential. The 6-foot-11 center will turn 19 in July, but is regarded as an athletic big man with ability to block shots and rebound. Lauvergne is a 6-foot-10 power forward who will turn 20 in September and currently projects as a second-round pick. On Chad Ford's big board, Nogueira is ranked No. 36 overall, including No. 5 at the center position, while Lauvergne checks in at No. 58 overall, No. 15 at power forward.
Also working out on Tuesday were Texas point guard Cory Joseph (49th overall on Ford's big board), Ohio State shooting guard David Lighty (64), Iowa State point guard Diante Garrett (68), Louisville power forward Terrence Jennings (80), Pittsburgh point guard Brad Wanamaker (88), Rhode Island small forward Delroy James (93), Northeastern guard Chaisson Allen, Clemson point guard Demontez Stitt, and Richmond point guard Kevin Anderson.
This was the second straight day of workouts for Jennings, Stitt, and Anderson.