The fourth in a series of profiles of players that might be of interest to the Boston Celtics during the 2011 NBA Draft (June 23, Newark, N.J.):
Brooks can flat out score, averaging a whopping 24.6 points per game last season as a senior at Providence. He added 7 rebounds and 2.5 assists per game, while shooting 48.3 percent from the field. From ESPN's player evaluation: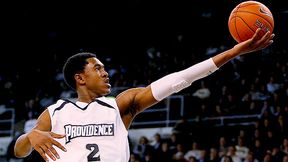 Chris Chambers/Getty Images
Marshon Brooks drives to the hoop at Providence.Projection: First round
Positives: Big-time scorer... Crazy 7-1 wingspan... Thrives at getting to the basket... Solid shooter... Good rebounder for a guard... Good athlete... Quick first step... Very aggressive... Good ball handler
Negative: Played out of position at Providence... Doesn't always get his teammates involved... Needs to improve his 3-point shot
Ford's analysis: Sometimes a player in the draft just has that look. Not just a passing-the-eye-test look, but something bigger. Maybe he just has the perfect combination of size, length, speed, savvy and raw production, like Paul George did last year, despite playing on a less-than-great college team. Other times he has similar movements to an NBA great, teasing team decision-makers with the thought that perhaps he can evolve into his NBA look-alike. No player in this draft is drawing more late-in-coming raves than Marshon Brooks from Providence, in part because he's physically similar to George. But to get this much buzz it takes more than a Paul George comparison, and Brooks can thank none other than Kobe Bryant for his rapid mock-draft ascension.
In the news: After sitting out of a pre-draft workout with the Charlotte Bobcats on Sunday due to a sprained ankle he suffered while working out for the New York Knicks last Friday, Brooks was back on the court Tuesday and completed an impressive workout for the Indiana Pacers. He torched another likely first-round candidate in Klay Thompson during a game of 3-on-3, according to ESPN 1070 The Fan, continuing to cement his reputation as one of the most explosive scorers in this year's draft.
Payne's take: Brooks has a skill set the Celtics would be interested in should he somehow fall to the No. 25 spot on June 23. He's an explosive scorer who can get his points in bunches, and after watching the Celtics' offense wither in the fourth quarter on multiple occasions against the Miami Heat in the Eastern Conference semifinals, it's clear the team could use another guy who can put the ball in the basket off the bench. On top of being able to score from practically anywhere on the floor, at 6-foot-5, Brooks can create his own shot, and would be a nice piece for Boston as it transitions out of the current Big Three era in the next few seasons. Right now it's simply a question of whether or not Brooks will still be on the board when it's time for the C's to pick -- or whether Boston would be willing to move up to obtain his services. His stock is continuing to rise and he could go as early as No. 9 to the Bobcats or at No. 15 to the Pacers.
Greg Payne is a student intern for ESPNBoston.com