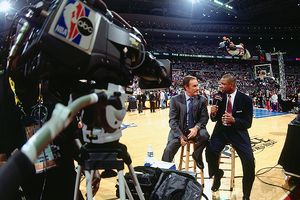 Nathaniel S. Butler/NBAE/Getty Images
Doc Rivers with Al Michaels in his broadcast days.If the Golden State Warriors were on the fence about hiring ESPN/ABC analyst Mark Jackson as their next head coach because of a lack of experience on the bench, it might have been Celtics coach Doc Rivers who gave the team the confidence to ignore that.
Warriors owner Joe Lacob, formerly part of the Celtics' ownership group, admitted as much Friday while appearing on The Doug Gottlieb Show on ESPN Radio.
"I will tell you that I know Doc very well because of my years with the Celtics in ownership there and he had a big impact on me when he said that the best thing he ever did to prepare to be a coach in the NBA was to be in the broadcast booth for the number of years he did it," said Lacob. "He thought that was more valuable than being an assistant coach. He got to see how other teams prepared, how other coaches prepared, and how they played other team. He got to study the game. That kept ringing true in my head as we went through the process here and interviewed Mark in comparison to other candidates, some of which were head coaches and some of which were assistant coaches.
"At the end of the day, you try to evaluate all the qualities of these individuals and [determine] what are there most important ones. Not everyone has every quality and the one risk -- the one downside to Mark -- is that he had not been a head coach and you'd rather have that than not. But his other qualities -- his character, his leadership, his passion, his intelligence, and his experience overall as an NBA guy as a player -- were so great that he was almost overwhelming to me in his fit for this organization. He was the first finalist I interviewed and I was pretty blown away. I kept comparing everyone else to him."
Now, before any conspiracy theorists get in a lather and suggest that Rivers' compliments for Jackson might have hindered the candidacy of Lawrence Frank, Boston's top assistant last season and another finalist for the Golden State job, let's remember how effusive Rivers has been in his praise of Frank -- and he undoubtedly expressed that to Golden State brass as well. Rivers boasts an unselfish desire to see all of his assistants land head coaching jobs.
Rivers worked for TNT before landing his first coaching gig with the Magic (he won Coach of the Year in his first season). Rivers also spent a year as color commentator for ABC after being fired in Orlando and called the 2004 NBA Finals alongside Al Michaels. He took over the Celtics' coaching job soon after and has ascended to the top paid coach in the NBA after inking a 5-year, $35 million extension last month.