The sixth in a series of profiles of players that might be of interest to the Boston Celtics during the 2011 NBA Draft (June 23, Newark, N.J.):
After headlining the Celtics' five-player pre-draft workout on Saturday, we take a look at UCLA point guard Malcolm Lee, who averaged 13.1 points, 3.1 rebounds, and 2 assists per game as a junior this past season. From ESPN's player evaluation: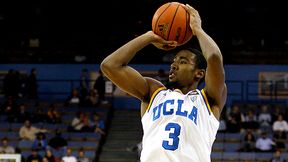 Ric Tapia/Icon SMI
UCLA's Malcolm Lee squares to shoot.Projection: First-round bubble
Positives: Long and athletic... Great size for his position... Can play both the point and the two... Great speed, excellent in transition... Elite perimeter defender
Negative: Lacks strength... A bit of a tweener, seems more comfortable at the 2... Inconsistent jumper... Questionable basketball IQ
Ford's analysis: For the past two preseasons, scouts have had him as mid-first-rounder, but his play during the season has disappointed. Lee is quick, has great size for his position, and has become a lockdown defender. But his lack of a jumpshot, poor game management and overall lack of success the past two seasons at UCLA have puzzled scouts.
In the news: More from ESPN.com's Chad Ford: "[Lee is] long, explosive athletically, very quick laterally and made a lot of very good decisions with the ball in 3-on-3 play [at a May draft workout]. His jump shot is still coming along but the rest of the game looked to be there. The NBA loves big point guards and I think Lee will ultimately be a point guard in the league. I could see him sneaking into the first round and possibly even challenging Darius Morris. Morris is more of a pure point, but Lee is a significantly better athlete."
Forsberg's take: If you're making a list of the Celtics' needs it's probably topped with athletic big man and perimeter scorer comes soon after. So why bring in Lee for a workout if he doesn't appear to fit an immediate need? The Celtics have never been shy about drafting the best available player instead of what fills an immediate need. Lee has a lot to like about him and the UCLA pedigree is intriguing. The question is whether Boston needs another defensive-minded tweener when they drafted that last year in Avery Bradley. Yes, Lee has more height and could project as a backup 2 instead of a point guard, but unless the Celtics were blown away by what they saw, it seems likely that they'll stay focused on more glaring needs. Getting a closer look at Lee also gives Boston a better idea of what the value of the No. 25 pick should others be hoping to wiggle up to that spot for a chance at him.