During the slower times this offseason (of which there could be many in a bummer summer with a potential lockout looming), we'll occasionally reach into our Celtics Mailbag and pull out a question to field in the blog. Hop HERE to submit a question: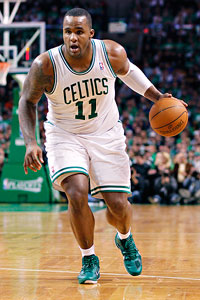 Greg M. Cooper/US Presswire
Don't hold your breath on getting anything in return if Glen Davis leaves town.Q: Any shot of the Celts packaging Big Baby Glen Davis with the Clippers' first-round pick (obtained from the Thunder) for Chris Kaman? The Clips want to move him and he would be a great fit. -- M. Kelly (Quartz Hill, Calif.)
A: Killing two birds with one stone in this grab bag as there's been a handful of questions lately about both Kaman and Davis. The Kaman chatter came after trade reports indicated the Clippers were willing to move him with a desire to build around the young froncourt of Blake Griffin and DeAndre Jordan. Kaman actually makes some sense for the Celtics because he's in the final year of his deal, which is Boston friendly as the team eyes maintaining cap flexibility after the 2011-12 season, and with the departure of Nenad Krstic and the retirement of Shaquille O'Neal, the Celtics could use a veteran big. Alas, Kaman's $12.7 million price tag makes him virtually unobtainable as all trades have to match up salary wise and the only thing in the neighborhood for Boston is the likes of the Big Four.
But while we're here, let's address the larger issue: Glen Davis. A lot of mailbaggers have asked about the potential to flip Davis, who is set to become an unrestricted free agent, via sign and trade (or extend and trade). Long answer short, don't get your hopes up.
Davis is not eligible for an extend and trade prior to July 1 because he is operating in the final year of two-year contract that he inked during the 2009 offseason. A player must have a contract of at least four years to be eligible to be extended (Davis signed a two-year minimum deal after being drafted by the Celtics in the second round of the 2007 draft, then, after being tendered a qualifying offer in 2009, inked a two-year, $5 million package, which included incentives that increased the value to the $3 million he earned this past season).
So if Boston doesn't believe it is capable of -- or simply doesn't have interest in -- re-signing Davis this offseason -- though it's probably the best option given the fact that, new collective bargaining agreement willing, the Celtics will have full Bird Rights to him having been with the team the past four seasons and can offer him a healthy raise despite being over the salary cap -- its only hope to obtain something in return is to facilitate a sign-and-trade deal. Even still, the amount of that raise that Boston can offer (based on the current CBA, at least) might not be as much as a team with cap room is willing to offer. And it's unlikely the Celtics would dip into the mid-level exception (assuming that lives on) in order to sign him at a higher number before dealing him away. All of which makes a sign and trade hard to envision.
A special tip of the cap to CBA guru Larry Coon, who helped verify all the possibilities under the current agreement, though keep in mind that things could change after July 1 (or whenever an agreement is reached and the offseason actually starts). Once we get to that offseason, we'll discuss more why we think that it is imperative the Celtics re-sign Glen Davis using those Bird Rights, but the competition might make that a difficult task.