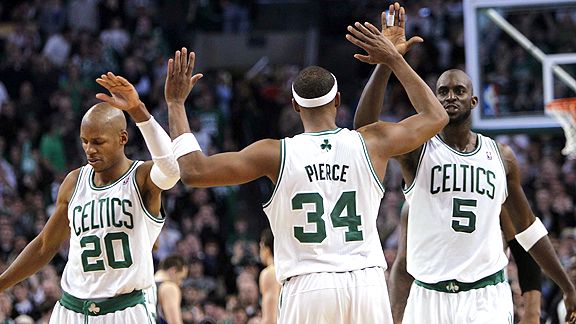 Greg M. Cooper/US Presswire
Boston's Big Three knows it could have done more this season.WALTHAM, Mass. -- Celtics coach Doc Rivers tries to get together will all of Boston's returning players during the offseason and revealed Wednesday that he recently had a group dinner with the Big Three of Kevin Garnett, Paul Pierce, and Ray Allen.
"Sometimes I do it in [groups of] 2's or 3's, but it's always interesting to get those three together," said Rivers. "Single, they'll say one thing, but when you put them all together it's easier. [The tough part is that] those three are the toughest to get together in one city.
"[We just talked] basketball. I always press on them more than anyone how small the window is for them. They understand, I can tell you that. They were more disappointed. It's funny we lost a Game 7 [of the NBA Finals in 2010] and I thought the disappointment this year was more in some ways."
Rivers said the Celtics are still kicking themselves over missed opportunities and that's been a common theme in these clandestine dinners.
"I wish we could have played better, I wish we had had our health -- [Rondo] and [Shaquille O'Neal being injured] -- but that's part of the game, being healthy at the right time... [At dinner with the Big Three], we were talking about that, how important the regular season is, how we gave away some games that, maybe if we were in a different bracket, all kind of things coud have happened. But they didn't and I think our guys understand that."
By bringing back the core this season, the Celtics keep that window open for what's likely one last rodeo. But a new collective bargaining agreement and little salary flexibility regardless might further decrease the margin for error as Boston's Big Three seek that elusive second title together.
In advance of Thursday's NBA Draft, Celtics president of basketball operations Danny Ainge admitted that no one on the team is untradeable as he preps this team for success next year and beyond. But he continues to rave about what the trio mean to this team.
"I think it's great to have those guys, not just for the players we are drafting, but all the players we bring in from free agency and trades," said Ainge. "Those guys have been great. I've said it before, I've never seen a group of guys at their age, and this has been going on for last three or four years, practice as often, and as hard as those guys do. To be able to play as well, collectively, at their age, it's been pretty impressive. Their professionalism, their experience, and the way they approach the game and life, has been very good for the young players, [and] even the veteran players we've had with them."