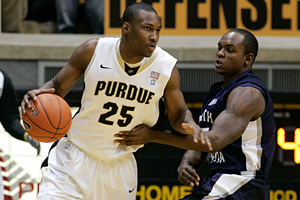 Michael Heinz/US Presswire
JaJuan Johnson at work for Purdue.Celtics coach Doc Rivers said the team was surprised that Purdue's JaJuan Johnson was still on the board when it came their turn to select at No. 25 in Thursday's NBA Draft.
The team ultimately flipped that pick to New Jersey to move down two spots and picked up a future second-round draft pick in the process. But how could Boston be so certain that Johnson would still be there at No. 27?
"Well, you never know," admitted Celtics president of basketball operations Danny Ainge. "There's always a little bit of a gamble. But our intelligence told us what was going on."
The Celtics knew the Nets wanted Providence's MarShon Brooks and made that selection for New Jersey as part of the deal at No. 25. That meant only Dallas, the defending NBA champs, could have blown up the plan by picking Johnson at No. 26.
The Mavericks ended up going with Texas' Jordan Hamilton, a player that had slid down the draft board, and ultimately traded him and the No. 57 pick to Portland for Rudy Fernandez and Petteri Kopenen. The Celtics likely had an idea of what the Mavericks had brewing and were willing to take a chance that they wouldn't have a last-minute change of heart and target Johnson.
"We had to make sure that the guy we wanted would still be there if we moved down, and we found out that the team that was in between the two was taking someone else, so we were willing to do the deal," explained Rivers.
Even if things went awry, Rivers had said the Celtics had honed in on three players as their pick neared. The Celtics were keen on Boston College's Reggie Jackson, but when he got hooked by Oklahoma City at No. 24, Boston immediately went to work on the deal that would land them Johnson.
"Honestly, the three guys we wanted -- Reggie was one of them, he went right in front of us," said Rivers. "Then, the guy we got and then someone else right behind us -- pretty close behind us, who would think very much like us; I'll give you a hint and let you guys figure that one out -- picked the other guy. It was pretty much the way we thought it would be."
Rivers is hinting at Marquette's Jimmy Butler, the swingman who got swooped up by Chicago (and old friend, coach Tom Thibodeau) at No. 30. If something had gone terribly wrong with the decision to move down, it's likely the Celtics could have landed Butler a few spots higher than he went to the Bulls.
Now only time will tell if Boston played its cards right. Brooks made the trip to New Jersey for the draft and popped up on stage to shake David Stern's hand in a Celtics cap, which ensures future second-guessing if he goes on to be a prolific NBA scorer. Jackson, with his local ties, will always be watched and some will wonder what might have been if he had been available at No. 25 (it's likely the Celtics still might have traded out with so much pre-draft interest in Jackson).
But even with the maneuvering, Boston got the man it targeted when it first went on the clock at No. 25, which will prevent any additional second-guessing.