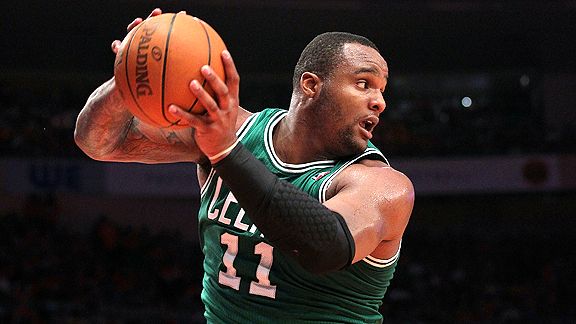 Nick Laham/Getty Images
Often maligned as a non-starter, Glen Davis could be a big help to a lot of teams.Even with an impending lockout that might delay the start of free agency this summer, ESPN Insider began taking a look at the players that will be available this offseason and identified some of the best and worst values:
Scouts Inc.'s David Thorpe looks at free agents-to-be that he considers potential bargains this offseason, producing beyond what their perceived value. Celtics forward/center Glen Davis top that list:
Davis embodies an accomplished role player with excellent career numbers, in terms of wins and big plays made in important games. He's considered a good locker room guy, easy to get along with and open to coaching from the staff and veteran players. Now that he's a respected vet himself and has played in dozens of tense playoff games despite being just 25, teams needing "glue guys" will target Davis as someone who can do more than just play a role. He brings all those "war" stories with him, not to mention a vast knowledge of how to play elite-level team defense.
Which players could be risky signings this summer? Basketball Prospectus' Kevin Pelton identifies five who might be overvalued:
Still a couple of years from reaching his peak, Green should be an ideal alternative to the fading veterans so common in free agency. Yet instead of getting better during his mid-20s, Green has stagnated or even gone backward in his development. His flaws were spotlighted after he was dealt to Boston by the Oklahoma City Thunder at midseason in a deal unpopular among Celtics fans. Green failed to win over the skeptics with his performance and was largely a nonfactor during the postseason. Green was more or less the same player in Boston he was in Oklahoma City, but the bigger stage exposed a national audience to the shortcomings that led the Thunder to deem him expendable. It also dispelled the notion that Green's issue was playing out of position as a power forward for Oklahoma City. Green played both forward positions with the Celtics, and as a small forward, his poor outside shooting tended to shrink the floor on offense. The danger is that Boston invested so much in Green that the front office will feel the need to re-sign him as a restricted free agent.
Davis and Green will define how Boston's offseason plays out. With full Bird Rights to both players, the Celtics can use deep pockets to retain the services of both players despite being over the salary cap. The question is what is Boston willing to pay and what will the market dictate for the price tag of both players?
Davis stumbled late last season, but he's still a big man who was a Sixth Man candidate for much of the year with inspired play at both ends. He earned $3 million last season, but would seem to be in line for a healthy raise. He'd probably also be looking for long-term security, having had to deal with offseason uncertainty every two years to start his career. Even if the Celtics decide a clean break is necessary, it might behoove the team to work a sign-and-trade deal, where they can use their rights to ink him at a higher salary than what another team might be able to offer given salary cap restraints, and then flip him for, say, a veteran with an expiring contract. Of course, as an unrestricted free agent, Davis isn't under any obligation to do that.
The Celtics continue to stress that they believe Green will thrive next season with a full training camp under his belt and increased minutes. Before June 30, Boston will almost certainly extend a qualifying offer ($5.9 million) and the market will dictate what happens from there. As a restricted free agent, other teams can attempt to lure him away, but Boston will have the ability to match all deals. Ultimately, it might be in Boston's best interest to ink him to a one-year deal, which would maintain the salary flexibility next season and allow the team to decide then whether they wish to ink him to a long-term deal (the danger there is that he'll be an unrestricted free agent and the potential for another team to lure him away would be greater).
What's your take, armchair general managers? Do you want to see the Celtics re-sign both players with eyes towards being as competitive as possible this season? Is it time for a break with Davis? Would you lock up Green long term now? Obviously, a lot of this hinges on the new collective bargaining agreement, but sound off with your thoughts in the comments.