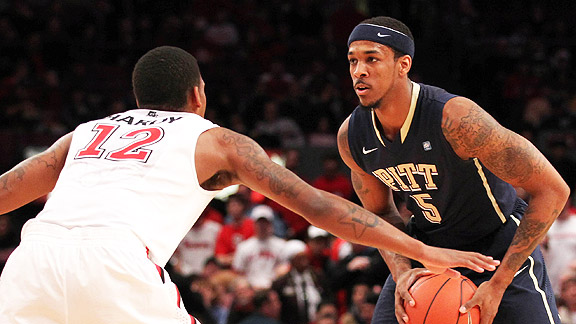 Anthony Gruppuso/US Presswire
Are the C's interested in Pittsburgh's Gilbert Brown?The Boston Celtics considered Pittsburgh's 6-foot-6 shooting guard Gilbert Brown with their second-round pick in Thursday's NBA Draft and told the undrafted free agent they have interest in signing him to a free-agent deal, according to the Pittsburgh Post-Gazette:
Gilbert Brown was on the phone several times throughout the day Thursday with the Boston Celtics and was optimistic about his chances of getting drafted in the second round. When Thursday turned into Friday and the 51/2-hour draft had come to an end, Brown didn't have much time to dwell on the disappointment of not hearing his name called.

Shortly after the draft ended, Celtics general manager Danny Ainge called Brown and expressed his interest in signing him to a free-agent deal. Brown said Ainge told him the Celtics had to make a decision between Brown and Purdue guard E'Twaun Moore with their second-round selection, the 55th overall in the draft. They chose Moore, but he wanted Brown to know that he was still interested.

"I'm definitely encouraged that the Celtics were interested," Brown said Friday afternoon. "I was talking to them all day. They said it was the flip of a coin when it came time to make the pick."
The Celtics selected Purdue shooting guard E'Twaun Moore with the 55th overall pick. Both he and first-round draft pick JaJuan Johnson will be introduced to the Boston media Monday morning at a community event in Brighton.
Ainge said after Thursday's draft that the team would likely try to bring in some undrafted players, but also noted the team cannot immediately sign a player. That means players like Brown, regardless of interest level, might have to wait out the impending lockout and that might not be possible. The Post-Gazette article adds that Brown will, "resume workouts in Las Vegas and Los Angeles. If the lockout is not settled by August, Brown will sign a contract to play overseas for a team in Germany."
Here's a glimpse at Chad Ford's scouting report on Brown. The positives Good athlete, well rounded; Solid shooter with 3-point range; Fluid in the open court; Good passer, unselfish; The negatives: Not a prolific scorer; Already 23 years old.