BRIGHTON, Mass. -- A couple bits of news at the Celtics' rookie introduction Monday morning at the Edison K-8 school: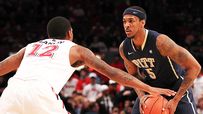 Anthony Gruppuso/US Presswire
Pittsburgh's Gilbert Brown is visiting Boston Monday.* Celtics president of basketball operations Danny Ainge confirmed the team has interest in undrafted Gilbert Brown. The Pittsburgh shooting guard is actually in Waltham Monday and, while the Celtics cannot officially offer him a contract before Friday's impending lockout, the team could always work on a handshake agreement.
"As a matter of fact, Gilbert Brown's coming in today as well, so we'll have Gilbert -- we'll be doing the same thing with Gilbert Brown," said Ainge. "He'll meet with our strength coaches and go through some things with our coaches."
Much like draft picks JaJuan Johnson and E'Twaun Moore, Brown could be given an offseason program to follow with eyes towards potentially inking him when the lockout ends.
One potential snag: Brown's agent told the Pittsburgh Post-Gazette this weekend that his client might seek employment overseas if the lockout lingers. The 6-foot-6 Brown averaged 11.3 points, 4.4 rebounds, and 2.7 assists per game as a senior at Pittsburgh. He shot 41.3 percent from beyond the arc and 45.8 percent from the floor overall.
* Ainge also confirmed the team will extend a qualifying offer to Jeff Green this week, a formality that should start the process of keeping Green in green next season.
"It'll happen this week," said Ainge.
After receiving the one-year, $5.9 million offer, Green will remain a restricted free agent. If he gets no greater offer whenever the NBA offseason occurs, he can sign that offer sheet and set himself up for unrestricted free agency next summer. If another offer comes in that trumps that, the Celtics have the ability to match and retain Green's services. Boston can also negotiate a long-term contract with Green and, because of Bird Rights, could spend up to the maximum, despite being over the salary cap.
Barring an offer from another team, it will be interesting to see if Boston simply settles for a one-year pact and reevaluates whether to sign Green long term after the 2011-12 season when it will have a whopping amount of available income as numerous contracts come off the books (Kevin Garnett, Ray Allen, and Jermaine O'Neal).