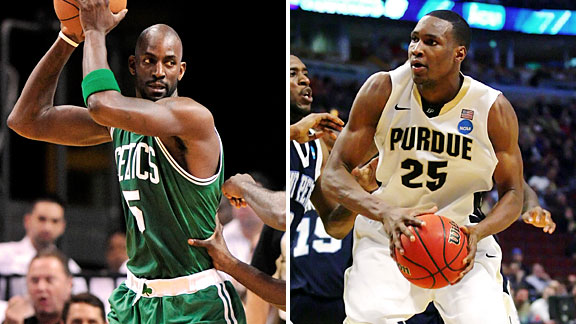 US Presswire
Celtics rookie JaJuan Johnson is ready to learn under Kevin Garnett.BRIGHTON, Mass. -- JaJuan Johnson might have recently earned his bachelor's degree in Organizational Leadership and Supervision from Purdue University, but come this summer -- NBA lockout or not -- the Kevin Garnett School of Basketball will be open for business, and it'll be up to Johnson to decide if he wants to hop on the fast track to a first-rate NBA education.
But he needs to know one thing up front: The first offer will be the only offer.
"Kevin's a great teacher," Celtics coach Doc Rivers said on Thursday. "Actually, the best teacher that I've ever coached, by far. But if you don't listen the first time, he'll never teach you again, and that's just how he works. We warn guys of that, and some follow, and end up being coached by Kevin Garnett, and some think they know it all, and they're not."
Some might have tossed aside the lessons Garnett has tried to instill, but at his introductory press conference on Monday at the Edison K-8 School, Johnson was quick to assure all that he will not be one of those players. Like a sponge, he's ready to soak up all the knowledge Garnett is willing to pass along.
"Oh yeah, I'll definitely listen to him," Johnson said. "If he tells me something, I'll definitely do my best to execute what he's saying, because I definitely don't want him shutting me down, especially because I definitely want to learn as much as I can from him."
Johnson is not Kevin Garnett, to be sure ("Don't anybody write it," Rivers joked Thursday), but there are several striking similarities between the pair's respective games. Both are long, athletic big men, capable of working with their backs to the basket in the post and stepping out and consistently knocking down a 15- to 18-foot jumper. Both understand what their strengths are on the offensive end and they stick to spots on the floor where they can best utilize those strengths -- a tactic Johnson impressed Rivers with during his pre-draft workout with the Celtics earlier this month.
"Watching [Johnson] in the workouts, he kind of knows where his shots come from," said Rivers. "It's funny, he didn't stray far away from his spots, and that tells you he's mature enough to understand who he is and how he plays. That's always a plus."
While Rivers was quick to halt any "The Next Kevin Garnett" talk about Johnson, he did note the similarities between the two.
"They're very similar... Same body type," said Rivers. "At the same time in their lives, [Johnson's] probably a better shooter, and Kevin became a great shooter. So there's a lot of upside things with him."
Perhaps most importantly, both are defensive-minded, and for Johnson, the reigning Big Ten Defensive Player of the Year who averaged 2.3 blocks during his senior season, there isn't a better mentor in the business. Like any coach, Garnett can explain the in-depth defensive schemes the Celtics have prided themselves on the last four seasons, but he also has the ability to take things to another gear by stepping in and leading by example.
"I don't think I ever have to talk to Kevin about [teaching new players]," explained Rivers. "It'll be the kid's choice if he wants to follow him."
Despite Johnson being a 22-year old, four-year, college star, Rivers and Celtics president of basketball operations Danny Ainge both feel like he still has room to grow as his NBA career begins. Johnson understands that heeding Garnett's words will help to accelerate that process.
"It's going to be huge for me," said Johnson. "Growing up [Garnett] was definitely one of my favorite players, so just having the opportunity to play alongside of him and just really learn from him, it's going to be big for me."
Greg Payne is a student intern for ESPNBoston.com