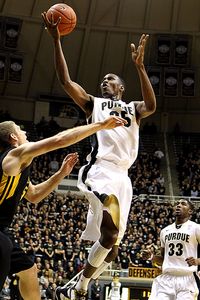 Andy Lyons/Getty Images
JaJuan Johnson said he plans to bulk up before his rookie season.BRIGHTON, Mass. -- Celtics rookie forward JaJuan Johnson is well aware of the scouting reports that say he's too thin. Johnson said at his introduction Monday that he knows he must add bulk to his frame and hopes to do that in the weight room. Here's a little back-and-forth with reporters on the subject:
Q: Do you need to bulk up?

Johnson: "Oh, definitely. I'm definitely hoping to put on some weight. I know it'll happen. I'll definitely put the time in in the weight room, and eat, and all of that. So, it's not a huge concern to me, but I know it'll happen."

Q: How much do you weigh?

Johnson: 220.

Q: What do you want to get to?

Johnson: "As much as possible."
Asked on draft night if Johnson might be too thin to play the power forward spot in the NBA, Ainge smiled and said, "Well, we wouldn't have drafted him if we had that issue."
Quipped coach Doc Rivers: "I'll just have him eat dinners with me. I don't know if he needs to put on weight. He needs to get stronger, so that usually includes weight. I'm not that concerned by that right now."