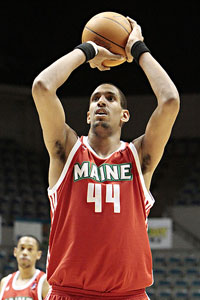 Ron Hoskins/NBAE/Getty Images
Could Alexis Ajinca's time in Maine help him land in Boston?Continuing our offseason look at players that could be of interest to the Boston Celtics once a new collective bargaining agreement is achieved with a look at center Alexis Ajinca:
The skinny: A former first-round pick of the Charlotte Bobcats (20th overall in 2008 draft), the 7-foot-2 Ajinca has only appeared in 71 games during three NBA seasons, logging more time in the NBA Development League than on NBA courts. Ajinca was part of the deal that landed Tyson Chandler in Dallas last summer (Matt Carroll, Erick Dampier, Eduardo Najera, and cash coming back to Charlotte), but appeared in only 10 games for the soon-to-be world champs and was dealt to Toronto in January.
2010-11 season: After logging a mere 75 minutes of floor time in Dallas, Ajinca posted career highs in Toronto with 4.8 points and 2.5 rebounds in 11 minutes per game over 24 appearances. He earned $1.5 million in the third year of his rookie scale contract.
Why it makes sense: The Celtics need young, cheap bodies at the center position and the 23-year-old Ajinca fits both categories. In a way, Ajinca could fill the gap left when Semih Erden was traded away, a big man with upside who could be thrust into a larger role when injuries crop up. Would the Celtics be interested? Consider this: While on assignment from the Bobcats, Ajinca appeared in 22 games with the Maine Red Claws during the 2009-10 season, averaging 14.6 points, 7.5 rebounds, and 3.1 blocks per game. His coach at that time was Austin Ainge, now Boston's director of player personnel (and son of president of basketball operations, Danny Ainge). That glimpse gives Boston a little inside knowledge into whether Ajinca could be a role player on this team.
Why it doesn't make sense: Ajinca's limited playing time in Dallas suggests an inability to carve a role on a veteran squad. Even in Toronto, with increased minutes in the season's final month, Ajinca still only averaged 15 minutes per game in seven April appearances, chipping in 6.4 points, 3.1 rebounds, and 0.7 blocks. Ajinca likes the 3-point shot, with 25 percent of his shots coming behind the arc, and while Boston does like bigs that can stretch the floor, he might not be the in-the-trenches center Boston needs.
Bottom line: The Celtics have an idea of Ajinca's potential and if that glimpse in Maine suggested he can add depth at the end of the bench, they could emerge as a suitor. The wild card here: Will the French national take his game back overseas in a lockout?