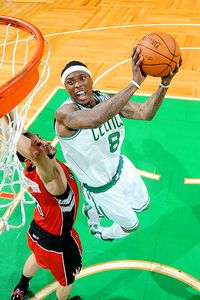 Brian Babineau/NBAE/Getty
If healthy, should the Celtics consider Marquis Daniels again?Continuing our offseason look at players that could be of interest to the Boston Celtics once a new collective bargaining agreement is achieved with a look at swingman Marquis Daniels:
The skinny: Injury riddled in eight NBA campaigns, Daniels has missed a whopping 205 games, or 25.6 contests per season. Last year, his second in Boston, it appeared Daniels might finally avoid the injury bug, appearing in 49 of the team's first 50 games (only miss was for a family issue), but a freak spine injury on Feb. 6 ended his season and threatened his career. The Celtics ultimately traded Daniels to Sacramento to free a roster spot. Recent surgery has Daniels optimistic he can resume his NBA career.
2010-11 season: Daniels averaged 5.5 points, 2.3 rebounds, and 1.3 assists over 19.1 minutes per game. Coming out of camp as really the only true swingman behind Paul Pierce, the Celtics put a lot of faith in Daniels to start the season, and he played well, particularly on the defensive end, where he maintained a solid 101 defensive rating (points per 100 possession), especially when you consider Boston's second-unit struggles. He earned $2.4 million after the team used its non-Bird rights to re-sign him (after inking him at the bi-annual exception the year before).
Why it makes sense: The Celtics still need depth on the wing and Daniels knows the system. If healthy, he's a solid defensive option off the bench and his offense tends to come in spurts (though he remains one of the best cutters in the league when he does it consistently). Daniels is also likely to come cheap given the injury concerns, so maybe a minimum contract in a familiar environment could entice him back (while everyone wonders if Boston would have been as quick to pull the trigger on the Jeff Green deal if Daniels hadn't suffered the spine injury).
Why it doesn't make sense: While the Celtics need a lock-down wing, they also covet shooting and a player that can hit the 3-point shot. Daniels -- a career 23.2 percent 3-point shooter -- made only 10 triples in 100 games in Boston. And the injury history, particularly after two seasons of being unable to stay on the floor with the Celtics, might leave the team leery.
Bottom line: It's likely the Celtics will examine other available wings with eyes towards a fresh start there, but if the well dries up, they could always give thought to Daniels if they believe he's healthy enough to still be a contributor.