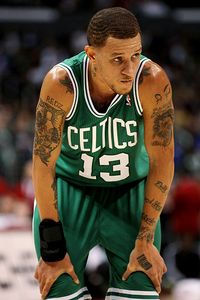 Stephen Dunn/Getty Images
The ideal backup PG for Boston is the return of Delonte West.Continuing our offseason look at players that could be of interest to the Boston Celtics once a new collective bargaining agreement is achieved with a batch look at potential backup point guards:
The skinny: For a team with only six players inked -- and two rookie draftees -- the point guard spot is one of the more beefed up positions at the moment. All-Star Rajon Rondo tops the depth chart and will log plenty of minutes, but the past two seasons have shown that Boston needs a backup point guard it can lean on to drive down Rondo's minutes. Right now, the depth behind him is a pair of inexperienced combo guards in sophomore-to-be Avery Bradley and rookie E'Twaun Moore, a second-round pick who will still have to earn a spot on the roster. Even if the Celtics believe Bradley is ready for an elevated role in Year 2 (this after logging only 162 minutes in 30 games last season), the team still needs a veteran that can hold the fort if Rondo is sidelined at any point.
The candidates: The Celtics expressed a desire in bringing back Delonte West, but a thin free agent crop might increase his market value... Earl Watson is a 10-year veteran with 756 appearances under his belt... T.J. Ford is intriguing if he comes at a low price tag... It seems unlikely Carlos Arroyo would be back, but he would have some of the playbook under his belt.
What makes sense: A healthy West is Boston's best option and during the Miami series he showed what a factor he can be (West averaged 10.2 points per game that series and played well at both ends of the court). His aggressive style leaves him injury prone and he endured both wrist and ankle injuries that limited him during the regular season. But his ability to play both guard spots and be a steady ball-handler when Rondo is off the court makes him the ideal fit. After that, it's far more dicey. The 32-year-old Watson doesn't bring much more than an experienced ball-handler, averaging just 3.8 shots in 19.6 minutes per game with Utah last season. The 28-year-old Ford, a University of Texas product like Bradley, is attractive as he tries to work his way back to being a top guard (he played just 41 games last season in Indiana, averaging 5.4 points over 18.9 minutes per game), but Boston might not be the best spot if he's looking for increased minutes (or money in the range of the $8 million-plus he's earned in each of his last four seasons).
Any other options?: It wouldn't seem logical to add another inexperienced ball-handler when the Celtics boast that already in Bradley (and potentially Moore). There are some interesting young names, including the likes of Sherron Collins. Before being waived by Charlotte last season, Collins spent a handful of games with the Maine Red Claws (coached by Austin Ainge, now Boston's director of player personnel). Like we noted with Alexis Ajinca, this gives Boston a glimpse into whether he has the potential to compete for a depth spot with the Celtics. The top available point guards are all restricted (Rodney Stuckey, Aaron Brooks, and Mario Chalmers) and Boston likely doesn't have the cash to land them -- or a top unrestricted name like world-champion-by-way-of-Northeastern J.J. Barea. Which leaves you wondering if maybe the Celtics would give Carlos Arroyo another shot if he came with a minimum deal. Unlike any other signing, he'd have a familiarity with the playbook after being plucked from the Miami scrap heap late last season (though he he averaged only 12.7 minutes in 15 regular-season appearances and did not appear in the postseason).
Bottom line: Bringing back West should be a priority for Boston, otherwise the Celtics are likely left clogging up a roster spot with a veteran ball-handler who's unlikely to be anywhere near as versatile. Boston needs veteran depth behind Rondo, but there doesn't appear to be much to rave about on the open market.