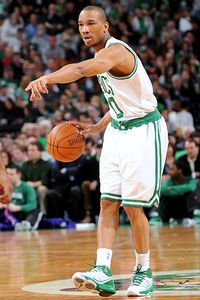 Brian Babineau/NBAE/Getty
Avery Bradley will consider overseas options this summer.Celtics sophomore-to-be guard Avery Bradley is in a tough spot because of the lockout. Injuries invaded his rookie campaign and the lack of organized ball could force him to explore an overseas adventure, but only if it comes with an opt out clause because Boston is his priority:
Avery Bradley's agent said Monday that he is exploring overseas options for his client but stressed that any deal would be contingent on an out clause that would allow Bradley to return stateside should the NBA lockout end, as his focus is on being with the Boston Celtics.

The Celtics only have six players under contract for next season and, beyond Bradley, the other five are All-Stars who have combined to earn a whopping $749.5 million in NBA contracts alone during their careers. The 20-year-old Bradley earned $1.4 million during his rookie campaign last season.

Trekking overseas would have little to do with money for Bradley, however, as agent Mitchell Butler of Lagardère Unlimited stressed his client simply needs playing time in a structured environment in order to aid his development.
Click HERE to read the full story.