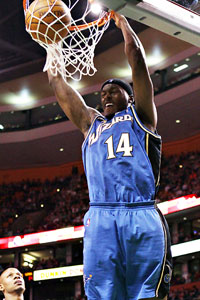 Elsa/Getty Images
Al Thornton's athleticism could be a good fit in Boston.Continuing our offseason look at players that could be of interest to the Boston Celtics once a new collective bargaining agreement is achieved with a look at forward Al Thornton:
The skinny: There was buzz around the 2007 draft that Celtics president of basketball operations Danny Ainge very much liked Thornton, who ultimately got snagged by the Los Angeles Clippers at No. 14. Despite two solid seasons to start his NBA career (he was part of the All-Rookie first team that year with Kevin Durant and Jeff Green), the Clippers traded Thornton to Washington as part of a three-team deal in February of 2010. Little more than a year later, he got waived by the Wizards and finished out the 2010-11 season with the Golden State Warriors.
2010-11 season: Thornton averaged 7.4 points and 3 rebounds over 19.5 minutes in 71 total games between Washington and Golden State. He earned roughly $2.6 million in total salary, the majority coming from Washington in the final year of his rookie scale contract.
Why it makes sense: Thornton's stats won't wow you at either end of the floor, but his 6-foot-8 athletic frame is intriguing. Let's break it down on both sides of the ball:
Defense: A quick glimpse at Thornton's career defensive rating (112 points per 100 possessions) suggests he's far from the defensive stopper Boston yearns for in the post-Tony Allen era. But then you remember that Thornton has spent nearly his entire career with the Wizards and Clippers. Hone in on Thornton's individual defense last season with Washington, where he appeared in 49 games, and you'll find a quality defender capable of holding his own against everything from big guards to centers. According to Synergy Sports, Thornton graded out as "good" overall (59th percentile) in allowing .875 points per play and opponents shot a mere 39.5 percent from the floor against him. He rated "very good" (66th percentile) in spot-up situations, which accounted for nearly one third of his total defensive plays. By means of comparison, Paul Pierce, who sported a rock solid 100.5 defensive rating last season (13th best in the NBA), rated "very good" in allowing .835 points per play and opponents shot 36.8 percent from the floor against him overall. In spot-up situations, Pierce rated merely "average" (47th percentile) allowing opponents to shoot 39.9 percent with 37.7 percent of his total plays in that situation. With defensive-minded teammates around him, the stats suggest Thornton has potential to be a capable backup wing defender.
Offense: For his career, Thornton has averaged 11.9 points per game, last season being the first time he's dipped below averaging double figures. He's not a particularly strong mid-range shooter and doesn't have 3-point range (career 29 percent beyond the arc). The key for Thornton is transition, where he can again showcase that athleticism. According to Synergy Sports, Thornton graded out as "excellent" in transition (94th percentile) by averaging a whopping 1.486 points per play (imagine him running next to Rajon Rondo). He likewise rated "excellent" in post-up situations (utilizing that height), averaging 1.115 points per play. In order to thrive, Thornton needs to limit the spot-up shooting (rated "poor," 14th percentile at .708 points per play) and simply use his athleticism to generate opportunities.
Why it doesn't make sense: With the Celtics looking to ramp up Jeff Green's minutes next season (assuming they hold onto him as a restricted free agent), that could create thin minutes at the small forward spot behind Pierce. Limited playing time might not be ideal for any short-term, low-money deal Thornton could ink, especially if he's looking to reestablish his value. Then again, there's something to be said about playing for a contender for the first time.
Bottom line: If the Celtics are intent on getting younger and more athletic, Thornton fits the mold and he might have more potential than most at a similar price tag. His lack of range on offense is troubling, but his overall skill set would be an intriguing bench addition in Boston.