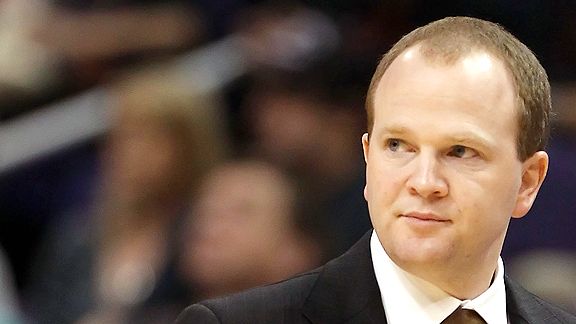 Christian Petersen/Getty Images
After one season in Boston, Lawrence Frank is back in the NBA head coaching ranks.After one season as Doc Rivers' top assistant in Boston, Lawrence Frank is set to become an NBA head coach again with the Detroit Pistons. From ESPN.com's Marc Stein:
The Detroit Pistons have chosen Lawrence Frank to be their new head coach, according to sources with knowledge of the team's thinking. The Pistons have selected Frank over former Detroit assistant Mike Woodson, with sources telling ESPN.com that the decision signals the growing influence in the organization of former New York Knicks executive Dave Checketts. Yahoo! Sports first reported that Frank's hiring is imminent. The Associated Press reported that Frank will have a formal contract offer from Detroit within the next two days.
Frank boasted a 225-241 record in parts of seven seasons coaching the New Jersey Nets before coming to Boston last season, where he replaced defensive guru Tom Thibodeau. Frank missed out on three other head coaching jobs this summer despite being a finalist in Houston (Kevin McHale), Golden State (Mark Jackson), and Toronto (Dwane Casey), but finally got his gig with the Pistons.
What does it mean for Boston? The Celtics, who had expressed a desire in bringing Frank back, but acknowledged the healthy market for his services throughout the league (both as a head coach and assistant), are left searching for a top assistant for the second straight offseason. Given that the position produced two head coaches in little over a year's time, it shouldn't be hard for Rivers and Co. to fill that spot.
The natural inclination is to assume the Celtics will be looking for another defensive specialist, but with little drop-off on defense after Thibodeau's departure, Boston shouldn't limit itself while gauging available candidates. As Rivers often noted, while Frank's focus might have been on defense, that didn't mean he wasn't exempt from offering input on the offensive end.
Names that seem logical to pop up would include Mike Woodson, the other finalist in the Detroit search. Woodson, the former Atlanta head coach, visited the Celtics' practice facility last season. He's from the Larry Brown coaching tree and it's no secret how close Rivers and Brown are. (In fact, maybe Rivers would ring up his old pal just to float it past him; remember that Brown nearly signed on to be Boston's top assistant before the 2007 season).
Rivers could also look in-house. Armond Hill will enter his eighth year on the Boston bench next season, while Kevin Eastman joined Boston the same year in 2004 (but spent the 2005-06 season away from the team). They might not be the glitziest candidates, but they are loyal assistants that have been integral parts of Boston's success during the Big Three era.
The Celtics have a couple potential spots to fill on the coaching staff beyond Frank's departure. Earlier reports indicated big man coach Roy Rogers would not be back with the team (a former assistant on Frank's staff in New Jersey, Rivers noted that Rogers was hired in part to aid Frank's transition to Boston) and coaching associate Darren Erman is bound for Golden State.
After inking a five-year extension after the 2010-11 season, Rivers has a chance to mold the next iteration of his coaching staff. But success breads interest and so long as Boston remains competitive, interest will exist in the bodies that sit closest to Rivers.
As for the Pistons, they're getting a spark plug of a coach. After Rivers underwent a throat procedure during the 2010-11 preseason, he let Frank run an open practice at the TD Garden. Frank never quite stopped screaming from the sideline from that point forward. Overseeing the defense, Frank's voice could be heard shouting out instructions and assignments as he inched near midcourt at times (only to stomp back to his seat after the opposing team scored at the opposite end). Frank commanded immediate respect in the Boston locker room and replacing Thibodeau was no easy task. What's more, Rivers leaned heavy on Frank as part of the All-Star festivities in Los Angeles, more invaluable experience for him this past season.