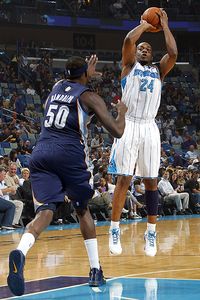 Layne Murdoch/NBAE via Getty
Carl Landry thinks JaJuan Johnson and E'Twaun Moore are NBA ready.Considering he attended the same school, Carl Landry may be a little biased when he talks up the Purdue tandem of JaJuan Johnson and E'Twaun Moore that was drafted last month by the Boston Celtics. That said, he thinks both players can contribute immediately in green:
LAFAYETTE JOURNAL AND COURIER: PURDUE TRIO PLAYS ON DESPITE NBA LOCKOUT
Having played with and against the NBA's best, Landry said Johnson and Moore have bright professional basketball futures.

"They definitely are NBA players," Landry said. "I'm ready to play the Celtics. I'm going to show the rookies a little something. They definitely should help that team.

"Me, along with everybody in West Lafayette and Lafayette, knows that those guys will contribute. It's crazy that they were drafted by the same team. That just doesn't happen."

While Landry has said that he enjoys playing in New Orleans and would be interested in playing for the Indiana Pacers or his hometown Milwaukee Bucks, he is intrigued by the Celtics.

"What would be even more weird is if the Boston Celtics sign me," Landry said. "Anything is possible. With free agency, you really just never know. We could be Purdue East."
Don't get your hopes up, Celtics fans. Landry is will be a highly coveted free agent once the lockout ends and Boston already has a little logjam at the power forward spot, particularly if they retain Glen Davis. The Celtics have more pressing needs at center and on the wing to use their available assets. Boston did have a Landry once, Carl's brother, Marcus, who was obtained in the Nate Robinson deal at the February trade deadline in 2010. The younger Landry spent some time with the Maine Red Claws before being waived before season's end.
In the Journal and Courier article, Moore also discussed the potential of playing overseas if the lockout persists, but noted his focus right now is on prepping for his opportunity in Boston. Said Moore: "I'm not thinking about [overseas] right now. I most definitely want to be a Boston Celtic."