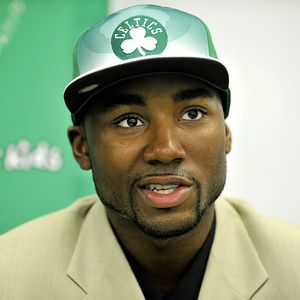 AP Photo/Josh Reynolds
E'Twaun Moore is nearing a decision about where to play overseas with the NBA in lockout mode.Celtics second-round draft pick E'Twaun Moore is still mulling overseas offers, according to his agent, though a decision about where he will play should come very soon.
A report on international basketball site Sportando indicated Sunday that Moore was close to inking a deal with Cimberio Varese of Italy's Lega Serie A. The report said that the deal would include some sort of opt out clause so that Moore, the 55th overall pick in last month's draft, could potentially return stateside when a new collective bargaining agreement is achieved.
Moore's agent, Mark Bartelstein of Priority Sports & Entertainment, said Sunday night that Moore is still weighing multiple offers, including some that exist outside of the Italian league. Numerous times this summer, Moore, who is in Indianapolis participating in the Indy Pro-Am league along with Celtics top draft pick JaJuan Johnson, has expressed a desire to be with the Celtics when basketball resumes, which would seem to make an opt out clause necessary, but Bartelstein said that was still up for negotiation depending on the opportunity overseas (early indications from NBA players signing overseas is that the better teams and salaries often come at the expense of an opt out clause).
Bartelstein acknowledged that he's doing everything possible to ensure his client gets the opportunity to earn a job with the Celtics, noting how that's Moore's top priority moving forward. But the uncertainty about whether there will even be NBA basketball next season has them leaving doors open.
Moore, a 22-year-old combo guard out of Purdue, should benefit from getting a taste of professional ball during the NBA work stoppage. Even if he elects to forgo the opt out clause, the Celtics would retain his draft rights for future seasons (think Semih Erden and the two years he spent in Turkey before joining Boston last season).
Last week, ESPNDeportes.com's Alvaro Martin broke down the overseas options for NBA players, ranking Italy's Lega Serie A among the top spots. Here's his analysis:
Italy's Lega Serie A: Considered the second-strongest league in Europe, third-strongest overall behind the NBA and Spain's ACB. Italy's teams attract talent out of proportion to its ticket-selling capabilities: only two of the 16 teams have stadiums that hold 10,000 fans or more, and six teams compete with buildings with a capacity of 4,000 fans or less. New Basket Brindisi, in Italy's heel, competes with an arena that holds just 2,500 fans -- yet last season former NBAers Eric Williams and Yakhouba Diawara played for them. Even Benetton Treviso's PalaVerde arena has capacity for 5,134 fans.

Beyond the attractions of Italy as a destination, like Spain's ACB, the quality of the coaching in this league is superb. Instead of four games or more in a typical NBA week, players in the Lega Serie A may have two or at most three games. Practice time fills out the rest of the week, and NBA players hungry to learn will make good use of fine coaching; Brandon Jennings considerably improved his 3-point stroke here. Teams can sign a maximum of three non-European Union players per season. Siena, Milano, Roma, Pesaro, Bologna and Treviso may have job openings with decent salaries, if they have not filled their rosters yet.

The Lega Serie A will be less demanding than Spain's ACB when it comes to escape clauses when the lockout ends. Perhaps six to 10 openings for NBA players who would earn $500,000 tax-free or more per full season may be available, with three of those jobs penciled in for the Italian NBA players.