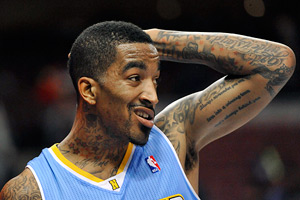 Howard Smith/US Presswire
Does J.R. Smith make sense for Boston?Continuing our offseason look at players that could be of interest to the Boston Celtics once a new collective bargaining agreement is achieved with a look at shooting guard J.R. Smith:
The skinny: Drafted out of high school by the New Orleans Hornets (18th overall, 2004), Smith has emerged as one of the league's top shooters, settling into a sixth man role over the past five seasons with the Denver Nuggets (Smith landed in the top 10 of voting for Sixth Man of the Year each of the past four seasons, including a second-place finish during the 2008-09 season). For his career, the 6-foot-6 shooting guard has averaged 12.5 points on 42.8 percent shooting (37.1 percent beyond the arc) over 23.9 minutes per game.
2010-11 season: Smith reeled in his shooting a bit, taking nearly four less shots per game (9.9 overall) from the previous season (13.8), and still averaged 12.3 points on 43.5 percent shooting over 24.9 minutes per contest. He also shot 39 percent beyond the arc and seemed to put a renewed focus on the glass, where he hauled in a career-high 4.1 rebounds per contest. Smith earned $6.8 million in the final year of a three-year, $16.5 million pact.
Why it makes sense: The Celtics have been in need of a pure bench scorer for the past two seasons and few do it better than Smith. According to Synergy Sports data, Smith rated "very good" averaging .987 points per play last season (75th percentile among all NBA hoopsters). Dig deeper and you'll see he's among the elite as a spot-up shooter, averaging 1.276 points per play under that play type, good for the 98th percentile. In fact, of players with at least 200 plays last season, Smith ranked third in the league in points per play (by comparison, Ray Allen was eighth). What's more, Smith was rock solid beyond 16 feet last season, according to HoopData, shooting 42.3 percent overall on long 2's and 3's (making up for a down year closer to the rim). The 25-year-old speedster is just the jolt any stagnant second-team offense might covet.
Why it doesn't make sense: Smith's character has come under question for off-the-court troubles and there was reportedly friction with coach George Karl in Denver. Smith is also likely to command up to the full mid-level exception (Boston's best offer if it lives on in a new CBA) and it's uncertain how long the Celtics would want to commit to any player this offseason in order to maintain cap flexibility next offseason. But the biggest issue with Smith is his defense. His quickness produces ample steals, but it can't quite mask his deficiencies on that end of the court. According to Synergy data, Smith ranked merely in the 7th percentile of all NBA hoopsters, allowing a cringe-worthy 1.044 points per play last season. As good of a spot-up shooter as he is, he's equally inept at defending that situation, allowing 248 points in 189 plays (1.312 points per play, 3rd percentile). Opponents shot 45.4 percent against him overall.
Bottom line: Smith's offensive abilities will earn him a healthy paycheck this offseason, but Boston can likely find a better value elsewhere.
For the rest of our "Good in Green?" series, click here.