Catching up on Celtics-related odds and ends around the web: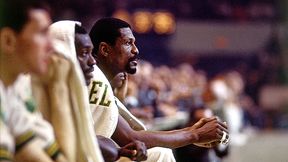 Dick Raphael/NBAE via Getty Images
Bill Russell: The greatest center of all-time?* ESPN.com's 5-on-5 series examined centers Friday with Bill Russell getting some chatter during a question about the best NBA center of all-time, while Kendrick Perkins lands in the conversation about the most overrated centers currently in the game. There's even some Shaquille O'Neal chatter among the best centers, but maybe Jonathan Santiago of Cowbell Kingdom summed it up best by submitting Russell as his choice: "With 11 championships to his name, Bill Russell. To quote Jason Segel from "Bad Teacher": 'It's the only argument I need!'"
* Sources confirmed to ESPN.com that the Detroit Pistons and Lawrence Frank have finalized an agreement on a four-year deal that officially opens Boston's search for its next top assistant. Boston visits Detroit for the first time next season on Nov. 27 ... assuming there's basketball in November.
* Speaking of former top assistants, every time Tom Thibodeau stood up to lament a blown defensive assignment in Boston, his ailing knee probably got a little worse.
* If any of the six Celtics' currently under contract get the urge to play overseas, FIBA said it's cool to do so on Friday (so long as there's an end-of-the-lockout opt out).
* A dog in a KG jersey. Anything is possible!
* Your humble reporter has been aiding ESPN Boston's Patriots coverage in Foxborough the past couple days. Updates, particularly as this lockout goes on, might slow down a bit, but we'll try to keep things as vibrant as possible in this space. But post-lockout football is the hot topic right now -- especially with these wheeling and dealing Patriots -- and even Von Wafer thinks the Patriots obtaining both Chad Ochocinco and Albert Haynesworth this week was a bit absurd: