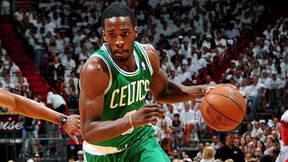 Jesse D. Garrabrant/NBAE/Getty Images
Jeff Green wants to be more aggressive next season.NBA.com's David Aldridge recently caught up with Jeff Green for a Q&A on his offseason and an uncertain future (as a restricted free agent during the lockout). Green talks about going back to school at Georgetown to get his English degree ("I only have four more classes, so I'm chipping away," said Green), how he's not currently interested in overseas options ("Not at all," said Green), and whether he believes he'll be back in Boston ("When the CBA is all over with, and I can figure which road to go down, that's when I'll think about it," said Green). Here's the most interesting Celtics-related portion:
DA: If you go back to Boston, what do you expect your role to be next season?

JG: That's up to Doc (Rivers). I know they wanted me to be more aggressive, so that's what I've been doing, is just working on my all-around game. Getting a little Paul Pierce in me. You know, taking a little characteristics from different players. Kobe, being one. Paul. Being with them for a couple of months now. Just a number of guys. LeBron. I'm just working on my game, trying to get better.

DA: What did you feel at the end of the playoffs?

JG: Disappointment. You know, I wanted more. I wanted more. To have the experience that I had with the guys in Boston, it was tremendous. I wanted more. But I learned a lot. I learned from KG, Paul and Ray. Three of the top legends in the game. I was just mad it was over, because I wanted to learn more and more. But I took what they gave me and just move forward and tried to add it to my game.

DA: Would you say you struggled more at the defensive end than the offensive end?

JG: Most definitely. Their schemes were a lot different from Oklahoma. It was tough adjusting to that, to learn the certain rotations. But I tried to do my best and I gave it my all.
Green could do worse than to study three of the best small forwards in the game (Pierce, Bryant, James) during what will likely be an extended offseason. Regardless, one of the most intriguing aspects of the offseason -- whenever a new CBA is achieved -- will be whether he attracts interest from other teams and whether the Celtics are willing to commit to him long-term, essentially saying he's part of the core upon which this team will be built in the post-Big Three era.