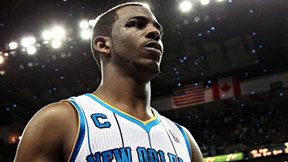 Derick E. Hingle/US Presswire
Chris Paul in Boston in 2012?In a series of 2012 free agent profiles, ESPN Insider examined New Orleans point guard Chris Paul Monday. While trying to identify where Paul might land given his looming free-agent status, ESPN.com's Ric Bucher suggests Boston is his "best fit" and delivers a potential trade scenario next offseason (let's stress here that this is merely speculation and not fueled by any sort of actual trade dialogue -- we are in the midst of a lockout, after all):
His situation is muddied by the fact the league, in essence, owns him, since it currently controls the team. (Let's put aside, for the moment, how potentially rife with accusations of conspiracy that scenario is.) As much as CP3 would like to play in New York -- and I'd like to see him battling for Gotham with his longtime rival and current Nets point guard Deron Williams -- the Knicks have no chance of adding him as a free agent with Amare Stoudemire and Carmelo Anthony already on the books.

Since there is no obvious spot, I'm going to go off the boards and have him land in Boston in a deal for Rajon Rondo. Rumors of such a deal already made the rounds once. New Orleans does a sign-and-trade -- the owners' proposed new max salary of $11 million would make it a straight-up trade -- to get a great young point guard to build around rather than come up empty. Paul, meanwhile, gets the chance to squeeze one more ring out of Boston's existing Big Three; why wouldn't Ray Allen and Kevin Garnett re-sign to cap-friendly terms to give it to him?
The Celtics are scheduled to have plenty of cap room after the 2011-12 season -- assuming there is one -- with Garnett and Allen set to come off the books. They'd likely have enough cash to sign Paul without needing a trade to facilitate, but that scenario leaves them with two of the game's top point guards, an unlikely situation.
Give us your take in the comments: Would you approve of such a deal?