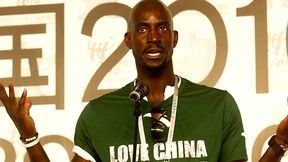 ChinaFotoPress/Getty Images
KG's shirt: Love China.Celtics forward Kevin Garnett spent part of his offseson last year in China doing a promotional tour after inking an endorsement deal with ANTA shoes. He's scheduled to go back this summer as well, but don't expect him to stay there and play some international ball -- even if that's a dream scenario for some Chinese squads. From ESPN.com's Marc Stein:
Sina Sports quoted a source who sees it the same, saying: "The [Chinese Basketball Association] isn't the NBA's backyard. If we didn't make a rule about players playing here temporarily, then they'd all just leave in the middle of the season. That would affect our season greatly."

I've been hearing more and more that Boston's Kevin Garnett is another star various clubs in China dream of... But if the no opt-out rule actually does go through, after the CBA reportedly first considered banning its teams from signing anyone who finished last season on an NBA roster, barnstorming tours could prove to be the only feasible Chinese option available to the NBA's biggest names.
Essentially, the CBA is leery of allowing NBA stars to play in China, only to see a mass exodus if another CBA -- collective bargaining agreement -- is achieved stateside. Even if they did decide to allow NBA hoopsters to visit with opt-out clauses, it's hard to imagine Garnett being intrigued. Yes, at 35-years-old his pro basketball window is closing, but he's made $270 million in NBA contracts alone and can easily bunker up in Malibu while waiting for the lockout to end.