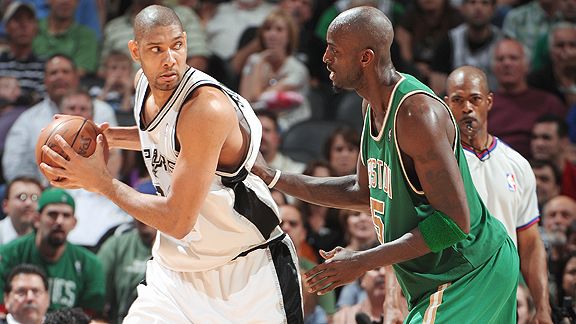 Andrew D. Bernstein/NBAE/Getty Images
Both Tim Duncan and Kevin Garnett remain dominant defensive players.As part of its 2012 free agent profiles, ESPN Insider on Thursday examined what veterans Kevin Garnett, Tim Duncan, and Steve Nash -- three player set to be free agents after the 2011-12 season -- have left in the tank. Here's the goods on Garnett from Basketball Prospectus' Kevin Pelton:
It's rare that players can turn back the clock in their mid-30s and bounce back after battling injury, but that's just what Garnett did last season. When Garnett's athleticism waned late in the 2009-10 campaign, it seemed we might have seen the last of him playing at an elite level, but he looked healthier and more explosive from the start of 2010-11.

Defensively, Garnett remains as valuable as any player besides Dwight Howard. According to Synergy Sports' tracking, Garnett was the league's most effective defender against the pick-and-roll. No defender in the league is capable of helping his team in more ways than Garnett, who blocks shots, racks up steals and is strong on the defensive glass. On offense, Garnett has become mostly a pick-and-pop player, which means he rarely draws fouls or comes up with offensive boards, but his efficiency remains strong on the strength of making 53 percent of his 2-point attempts.

Last season, 14 players rated as more effective than Garnett on a per-minute basis. As with Duncan, limited minutes cut slightly into his value, as does a history of injuries. (He missed 11 games last season.) As a result, Garnett ranked 28th in the league in WARP. Garnett's projections are more pessimistic than Duncan's. Players similar to him tended to drop off at age 36, which Garnett will reach in 2012-13. However, few of them were as effective defensively as Garnett. The exception is Hakeem Olajuwon, who had a strong season at 38 before fading. On a short-term deal, Garnett should be a worthwhile risk.

Because Boston might be set to rebuild if 2011-12 ends poorly, Garnett could be on the move. His game would work well most anywhere. What's more difficult is finding a scenario that might make sense for him. If Garnett's primary goal is adding a championship ring, he could sacrifice pay and team up with the Miami Heat's Big Three, but that prospect seems almost unthinkable. A more intriguing possibility is for Garnett to reunite with former Celtics assistant Tom Thibodeau in Chicago if Carlos Boozer wears out his welcome and could be moved in a trade.
* Forsberg's thoughts: One other option to consider is retirement. Garnett hinted a couple times last year that he was nearing the twilight of his career and, depending on the success of Boston's 2011-12 season (assuming there is one), it's not improbable for him to walk away even with a little something in the tank (remember that he's got 43,915 regular-season minutes played being a member of the prep-to-pro class). We could also see Garnett agreeing to a budget-friendly, short-term deal to hang around in Boston a bit longer. But Pelton's idea of Garnett going home to Chicago and reuniting with Thibodeau is interesting as well and a scenario that Celtics fans probably hope never happens.