In a weeklong series, we'll examine the 2010-11 season for each returning Celtics player and try to identify one glaring area that each player could improve on. Up first: Ray Allen.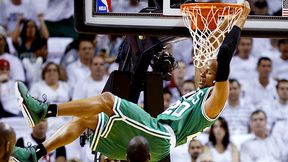 AP Photo/J Pat Carter
Ray Allen can still get to the rim.Good luck trying to find something to nitpick with Allen's game last season. Even at age 35, he put together maybe his best shooting season, establishing new career highs for field goal (49.1 percent) and 3-point percentage (44.4 percent). Dig deeper and Allen ranked in the 98th percentile among all NBA hoopsters, averaging 1.14 points per play this season, according to Synergy Sports. About the only thing you can seemingly lament is his free throw shooting and even there he shot a solid 88.1 percent, it just happened to be the worst mark since his second year in the league.
The natural instinct, then, is to think that maybe it's the defensive end where Allen could seek improvement. After all, his defensive rating (104) was highest among Boston's defensive-minded starting 5. But Allen's mark is hindered by logging so much time while being the only starter with the second unit. If you look at his individual numbers, Allen actually put together a rather stellar 2010-11 campaign. According to Synergy Sports data, Allen ranked in the 91st percentile, allowing a mere .776 points per play (this despite playing a position that matches him up 1-on-1 with some of the league's elite scorers). Again, you can nitpick, and note that Allen ranked merely in the 53rd percentile allowing .978 points per play in spot-up situations (the most common play type, with 27.5 percent of his defensive plays coming in that scenario). Alas, the overall body of work suggests a player that's elevated his defensive play in Boston's defense-first system.
So maybe the best advice for Allen this offseason is to simply, 'Keep doing what you're doing.' The NBA's 3-point king clearly doesn't need much advice at this point of his career. So much of what Allen does we take for granted because he does it so effortlessly and without much of the fanfare (that's reserved for milestone moments like breaking Reggie Miller's 3-point record last season). Heck, Allen broke the C's single-season record for 3-point percentage -- an achievement celebrated when Eddie House did the same just two seasons ago -- and it took some of us a couple months after the season to realize.
Yes, we keep waiting for Father Time to catch up with Allen, but he simply keeps running away. So long as he continues to put together campaigns like the one in 2010-11 season, there's little advice to offer him. Unlike his peers, Allen showed why he's still among the NBA's top players. Speaking of which...
* Bonus link: Our friend Zach Lowe is running down the Top 100 active NBA players on his The Point Forward blog on SI.com. Boston's entire Big 4 is ranked among the top 50 players and Allen is the first to debut at No. 48. Writes Lowe:
That's the tricky thing with Allen: It's hard to separate his late-career success from the context of Boston's Big Four. What is certain is that Allen is smart and hard-working on both ends, and that the mere threat of his shooting is like WD-40 for an offense. His placement here reflects the trouble he has now, in his NBA old age, at creating his own shot under pressure. Review all his late-game shots over his Boston years, and those that don't involve a stumbling Sasha Vujacic include picks, passes and creative play-calling from coach Doc Rivers. That's not a knock on Allen, by the way. The guy is 36 and still one of the league's 50 best players. Holy cow, what a career.
What's your take? What should Allen work on this offseason? Sound off in the comments.