Our roundup of Celtics-related headlines around the web: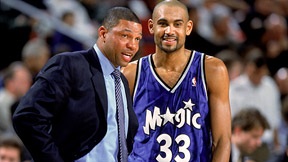 Otto Greule Jr/Getty Images
Doc Rivers and Grant Hill will reportedly join Duke for an upcoming tour of China.The Duke men's basketball is set to embark on a two-week tour of China and coach Mike Krzyzewski said Tuesday that Celtics coach Doc Rivers, father of Duke freshman Austin Rivers, will be part of the voyage. From the Charlotte Observer:
As big an attraction as Duke figures to be in China, the Blue Devils' traveling party won't lack for celebrity, either. Coach Mike Krzyzewski said Tuesday that he expects former players Grant Hill, Jay Williams, Nolan Smith and Kyrie Irving to join the team for part or all of the upcoming trip to China and Dubai, as will Boston Celtics coach Doc Rivers, whose son Austin is a freshman guard for the Blue Devils. Duke will leave Sunday for a two-week tour that will include three games against Chinese teams and a fourth against the national team of the United Arab Emirates.
Now, lockout rules typically prohibit interaction between coaches and players, so it'll be interesting to see if the league allows Rivers to mingle with the active NBA hoopsters. And if they do, you gotta think Rivers will kindly remind free agent Hill that the Celtics could always use a savvy veteran swingman behind Paul Pierce. The Celtics interest in Hill in recent years has been well documented, particularly given Hill's relationship with Rivers, his coach in Orlando.
* Celtics guard Rajon Rondo is expected to participate in the celebrity basketball game hosted by old friend Kendrick Perkins Friday in Texas. From the Beaumont Enterprise:
On Friday, former Ozen boys basketball player Kendrick Perkins will host a celebrity basketball game featuring five fellow professional basketball players. The game will be held at 1 p.m. Friday at Ozen High School. Perkins, a 6-foot-10 center for the Oklahoma City Thunder, is expected to be joined by Oklahoma City teammates Kevin Durant, James Harden and Eric Maynor along with Milwaukee Bucks guard Stephen Jackson and Boston Celtics guard Rajon Rondo.
After noting last week that he's still recovering from a dislocated left elbow and can't endure too much contact just yet, expect Rondo's role in the game to be limited.