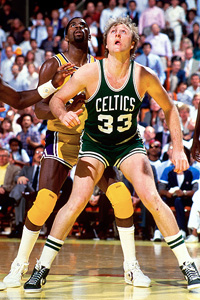 Andrew D. Bernstein/NBAE/Gett
Larry Bird vs. Magic Johnson.Go ahead, let me have it.
In submitting my ESPN Boston Hall of Fame ballot, I voted for Bill Russell, Red Auerbach, Ted Williams, Bobby Orr, and Carl Yastrzemski. But there's one rather glaring omission for those that frequent this space.
Yes, the Celtics guy left off Larry Bird. In my defense, one iteration of my ballot had four Celtics, including Bob Cousy, and we all know how that would have gone over given my sport of focus.
Anyhow, check out my picks (and watch my colleagues pounce on my suggestion of Yaz).
If only we had six picks, it would have been so much easier. Then again, if we all picked the same five people, it wouldn't have been nearly as interesting, either.