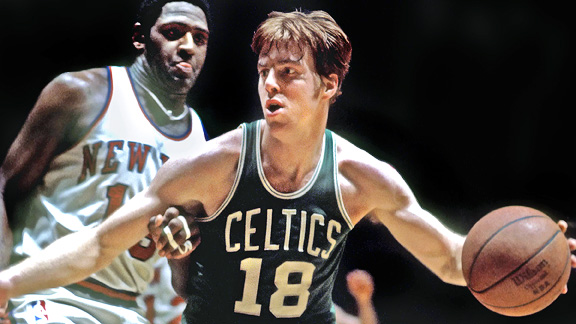 Manny Rubio/US Presswire
Dave Cowens at work during his playing days with the Celtics.ESPN Boston wraps up its Q&A sessions with Celtics legends by chatting with Dave Cowens, who amassed over 13,000 points and 10,000 rebounds in his 11-year NBA career (10 of which were spent in Boston), and helped lead the Celtics to championships in 1974 and 1976. Cowens discussed his fondest memories from his playing days, Paul Pierce's place in Celtics history, and Doc Rivers' tenure as coach of the C's.
What's your favorite memory of your playing days?
"I think back to the first time I was involved with winning a championship against the Bucks in 1974. That's probably the highlight for me."
What it's like going up against Kareem Abdul-Jabbar?
"It was a hard day at the job (laughs)."
Favorite memory of Boston?
"Boston is, as we know now, the greatest sports city in the country. I think even back then, even though all the other teams weren't winning championships, because it has such a rich heritage of sports -- the marathon and John L. Sullivan and Olympians and everything else -- you still felt like you were in a place that was special."
Where would you rank Paul Pierce as one of the all-time greats?
"I can't give him a number because I can't think of all the different guys, but he's a great player. He's done everything that this franchise has asked him to do and more."
How would you assess Doc Rivers' tenure as a coach?
"Doc's a great guy, and he's smart. He's a tough guy. When he talks, [the players] listen. They know he's telling them the truth, and really, players respect that. They respect a guy that's got the knowledge and he tells them the truth. Because they know a lot about the game, too. They're not just learning it. They've been through five-, six-, seven-hundred games as a pro, as a college player, [and] high school player. So they've been around a lot of locker room talks and chalk talks and things like that. So, they understand. And he has a good way with the players, and I think the veterans really respect him, and they've got some strong character veterans and that just feeds down to the other guys that play on the team."
Can the C's still compete another year with an aging core?
[No hesitation]. "Oh yeah. Because [the other teams] are a year older, too, remember."
His thoughts on the Big Three staying in shape
"Well, those guys take care of themselves, you know? Basketball has become a profession where you're on the clock pretty much 11 months of the year for the most part. Once the season was over we were out doing our thing and nobody was bothering us for the most part. These guys stay in pretty good shape all year long."
Greg Payne is a student intern for ESPNBoston.com