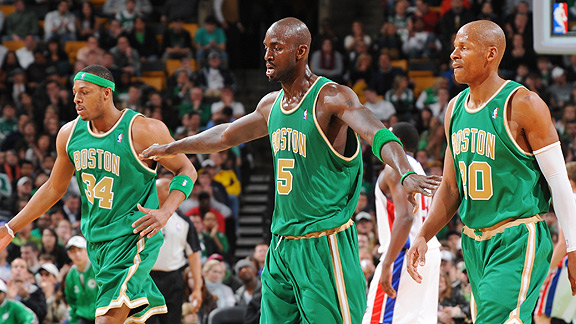 Brian Babineau/NBAE/Getty Images
Does Boston have to start preparing for a future without its Big Three of Pierce, KG and Allen.ESPN Insider examined what would happen if five teams decided to start over by making seismic personnel shifts before the 2012-13 season, including the Boston Celtics. Here's a glimpse at one man's plan from Basketball Prospectus' Kevin Pelton:
ESPN INSIDER: A REBUILDING PLAN FOR THE C'S

Step 1: Hold the line this offseason

The biggest challenge for Ainge will be filling out a roster for 2011-12, assuming there is a season, without compromising flexibility the following summer. Ideally, Boston would bring back its own free agents, Glen "Big Baby" Davis and Jeff Green, on one-year contracts -- even if it means paying a little more for this season. That allows the Celtics to be competitive while staying with their 2012 plan.

Step 2: Deal for Al Jefferson

What more fitting replacement for Garnett could there be than the centerpiece of the package Boston sent to the Minnesota Timberwolves to get KG? In the Summer of 2012, Jefferson will enter the final year of a contract that pays him $15 million. With the Utah Jazz adding young big men Derrick Favors and Enes Kanter, Jefferson's salary could make him expendable. The Celtics could take Jefferson into their cap space while offering the Jazz some trinkets in return. Jefferson would give Boston a post scorer capable of drawing double-teams, and the Celtics would be able to give him more help defensively than he got in Utah.
Hop HERE

to read the full story.
Forsberg's thoughts: Keep in mind, this exercise is done with the idea that Boston blows up its roster. There's no guarantee that happens and aging stars like Ray Allen and Kevin Garnett could always be brought back at reduced rates. Given the lockout, it's at least something to ponder while we wait for real basketball to return.