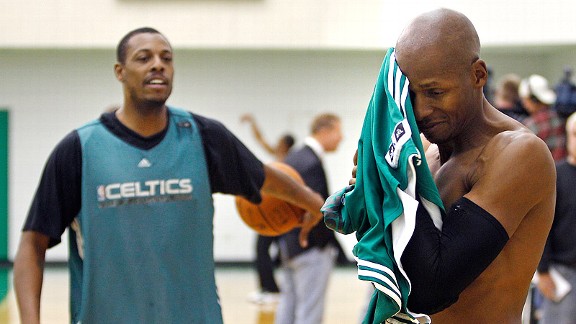 AP Photo/Charles Krupa
Paul Pierce and Ray Allen at Friday's practice.WALTHAM, Mass. -- The new-look Celtics were back in action Friday night for their first practice of the season at the team's HealthPoint training facility and, afterwards, two-thirds of the Big Three took some time to chat with reporters. Here's a sampling of what Ray Allen and Paul Pierce had to say after a late-night session:
On being back at work
Allen: "[This is] by far the [oddest first day of training camp I've experienced]. Just the way things transpired here in the last week, two weeks, I think everybody who's a part of this process, including fans, just gets so used to doing things a certain way. This is our livelihood and this is what we've been doing our whole lives, and when those leaves start to fall you know pretty much where you are. And for me, I was inside my house looking out the window, telling my landscape guy, 'Hey you missed a batch of leaves over there.' They're ready for me to go back because I'm always micromanaging everything around the house, so it's good that I have a day job now."
Pierce: "Lots of things happened quick [these past few days]. I knew we were all scheduled to report here on the first day, but it's also the first day that you can sign guys, so there was really a lot of uncertainty, because a lot of the guys you could sign couldn't really step on the court based on the new rules. So there was a lot of uncertainty coming into today, but I think in the next couple days there will be more certainty about the players we're gonna have."
On the Celtics' chances this season
Allen: "I like our team. I feel very strongly about our chances. One of the things that we said is that we have the guys that are going to help us win. But you know, me, Paul, Kevin and Rondo, we have to make sure we play our best basketball. We have to be leaders and make sure that we do the right things at all times. That responsibility always falls squarely on our shoulders. We have to be better this year than we were last year."
Pierce: "I like the guys that we have. We're gonna have a very competitive group. Some of the guys are still right up there with the best in the Eastern Conference, and as time goes along and as we gel, I think we'll be right there. I love the addition of Keyon [Dooling]. I love having Marquis [Daniels] here. And the rest of the guys coming back for a full year, Jeff Green getting a full training camp under his belt. I don't see us doing nothing but getting better."
On getting in shape
Allen: "I feel like I'm even in better shape, if that's possible, than I have been. I've had the opportunity to lift more weights, I've had the opportunity to run more … I think once the original start date of the season didn't happen, I was getting up to take my son to school every day and then I had nothing to do but go to the gym. That was my routine every day – just going to the gym and getting on the treadmill and running. I was finding ways to challenge myself doing that.
Pierce: "Well, I'm better rested, if [Allen's] in better shape. So, advantage me. [The time off] was good though, you know, especially for the older guys who logged so many minutes and played so many years. I think this time off was like a refresh button for us. That's what we kind of talked about when we were in the locker room. A lot of people are saying that we're older and [talking about] the schedule and the way it's crunched in, but everybody is gonna have to deal with the season, with the same type of schedule and the back-to-backs coming up. But I think with the way that we keep ourselves in shape and our health, how it's been the last couple years, I think we're gonna fare pretty good."
Allen: "Like I said earlier, everything that has happened has been so odd. You know, when I walked in here today I didn't know who half the guys were, so it was like trying to put the pieces together and deal with who we have. Every year we start with different guys... When we lost Perk on the fly like we did – and I still talk to him almost every other day it seems like – but you just pick up and keep moving."
Pierce: "You hate to see a guy like Glen go, a guy who played on the championship team, a guy who I've grown so close to. He had a chance to come out and play with me this summer out in L.A. But I've been around enough, I've been through a lot of trades, I've seen a lot of trades, seen a lot of guys that I've had relationships with go. It was hard seeing Perk go. It was hard seeing Tony Allen go. And once again, it's hard seeing Big Baby go. But that still doesn't change our friendship off the court. I just hope at the end of the day that he's happy."
On the Rondo trade rumors
Allen: "[I don't pay attention to that stuff]. I never do."
Pierce: "I expect [Rondo] to come out and probably have one of the best seasons of his career. He's a guy who's very motivated, who's very competitive, and when pushed he can be one of the best in the game. I was able to tell guys a few years ago when I was in those trade rumors – like, really heavy trade rumors where it was at the point where I was right there getting ready to be shipped out of here – and I came back the next year and had a career year. I just used it for motivation and hopefully he does the same... When you go through things that kind of hurt you, hurt your feelings, how you respond really tells a lot about the person, and it helps you grow up quite a bit. And that's in anything in life, when you're put through something where it bothers you or you're hurt or things don't go your way, and I think it's how you respond that determines what type of player and what type of person you're gonna be. And Rondo, he's in the mode of the type of guy that is going to respond positively and in a good way."