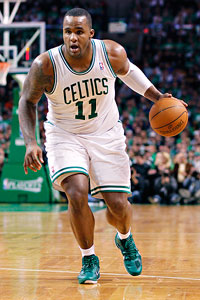 Greg M. Cooper/US Presswire
Glen Davis' act was always a lot of fun to watch, but it has run its course in Boston.Mercurial forward Glen Davis will be missed, but more for his entertainment value than his play writes ESPN Boston's Peter May:
And now there are four.

With Friday's departure of Glen Davis, the Celtics now have four holdovers from their 2008 title team: the Big Three and Rajon Rondo. And while no one Friday was shedding any tears, crocodile or otherwise, over Big Baby's absence, it simply won't be the same without him.

Simply, he was entertaining. He called himself The Ticket Stub when he was subbing for Kevin Garnett (aka The Big Ticket). Last year, he pleaded with everyone to call him "Uno Uno" instead of Big Baby. Didn't happen. He brought us one-half of the Shrek and Donkey Show with Nate Robinson during the 2010 playoffs -- and had more than a few highlight performances in his four years as a Celtic.

I will always remember Game 2 of the 2010 Miami series, when he destroyed the Heat (23 points, 8 rebounds), which prompted the following from the Heat's head coach, Erik Spoelstra: "That's a case of one man impacting the game simply with his effort. I don't think they ran one play for him. You cannot let a man's effort exceed yours. It's as simple as that."

He could play. We all saw that. He knew the game. He had fabulous footwork. He took charges. Boy, did he take charges. He made the game winner against Orlando in Game 4 of the 2009 playoffs, subbing for the injured Garnett. He torched the Heat again in last year's season opener (13 points, 5 rebounds) and then said, "Doc [Rivers] must have said something good about me."

He just didn't do all of the above with enough consistency to convince president of basketball operations Danny Ainge and coach Doc Rivers that he was a certifiable keeper. And he was, well, a mental work in progress. There's a reason why he never could get rid of that nickname.

"Baby was Baby," Rivers was saying Friday. "You know, kind of like Manny being Manny? He was young.
Hop HERE to read the full story.