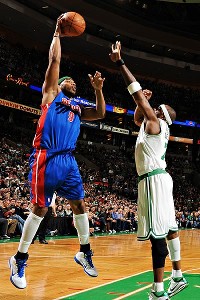 Brian Babineau/NBAE/Getty
Chris Wilcox, who played with the Pistons last season and in nine NBA seasons has never been to the playoffs, says coming to the Celtics was a no-brainer.After nine seasons on losing teams, joining Boston was a no-brainer for Chris Wilcox:
When his agent called with the list of initial suitors, Chris Wilcox didn't even have to think about the decision. After nine seasons of losing, all he wanted was an opportunity to taste the postseason. Pretty much the moment he heard the word Boston, he was a member of the Celtics.

Few players are as desperate to win as Wilcox. Not only has he never been to the postseason, he's never finished a season on a team with more than 37 wins. In nine seasons, he has collected a mere 267 total wins, or an average of 29.7 wins per season (or, if you're a glass-half-empty kinda guy, that's 52.3 losses per season).

But wait, it gets worse.

Selected with the eighth overall pick in the 2002 draft (sandwiched between Nene Hilario and Amare Stoudemire), Wilcox labored through three seasons with the Los Angeles Clippers. Finally, during the 2005-06 season, L.A. started to turn things around en route to winning a first-round playoff series.

However, Wilcox never got to be a part of it as he was dealt to the Seattle SuperSonics, a team that won just 35 games that seaosn, in a deadline swap for Vladimir Radmanovic.

"It's definitely tough [not going to the playoffs]," Wilcox said. "Luckily, I got into a situation here where I could play and it's a playoff team. In the past, I've been on teams where I got traded and they went to the playoffs. But at the end of the day, it's all been a learning experience and hopefully this year things change up for me."
Hop HERE to read the full story.