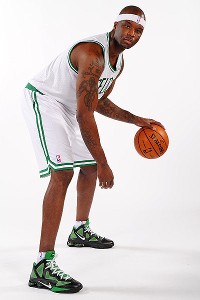 Brian Babineau/NBAE/Getty
Training camp MVP? Doc Rivers said it might be Jermaine O'Neal.BOSTON -- Last Friday night, the Celtics appeared on the verge of shipping Jermaine O'Neal out of town after one injury-plagued season in Boston. Exactly a week later, Celtics coach Doc Rivers suggested O'Neal has been the Most Valuable Player of the team's training camp thus far.
Yes, Jermaine O'Neal. The 33-year-old center whose cocktail of hamstring, knee, and wrist injuries limited him to a mere 24 regular-season games last year. A guy entering his 16th year in the league with an odometer in desperate need of a rollback, despite the fact that he's younger than all the members of Boston's Big Three.
The same player that was nearly traded last week for David West, but whose $6.2 million contract seemingly couldn't be moved by a New Orleans team uninterested in keeping him on its roster and that contributed to the potential deal falling through.
Even before he was nearly shipped off, there was concern about whether the Celtics could lean on O'Neal this season, especially as the only experienced center on the roster.
O'Neal's goal is to play upwards of 90 percent of Boston's total games this season (that'd be nearly 60 of the 66 on this condensed schedule). He says his body feels up to the challenge and Rivers has his back.
"If we had an MVP trophy, and maybe we should have one for camp, I think he would win it," said Rivers. "He's been phenomenal throughout camp. He's been absolutely wonderful."
O'Neal? The same player Rivers seemed frustrated with for falling behind in camp last year when he was slowed by a hamstring injury, and who disappeared for a large stretch while he worked to get back in playing shape? The same O'Neal who initially elected against knee surgery, only to settle for the procedure a short time later, leaving little time to work his way back before the postseason arrived?
Yes, that O'Neal.
"No. 1, he's bought in defensively, he knows where to be all the time," said Rivers. "Now he's become a talker. That's one of the things -- Kevin [Garnett], [Kendrick Perkins], [Glen Davis] and all those guys had -- Jermaine was new to it. We didn't have that a lot last year. Jermaine was learning it and you've heard [Shaquille O'Neal] talk before, so no one could understand what the hell he was saying -- the mumble. It's good that Jermaine got it. Offensively, he just knows where to be now. All those little things, and he looks healthy -- he's just healthy."
O'Neal pushed himself hard this summer, even amidst the uncertainty of the lockout. Training camp has offered him a chance to finally gauge where he's at after those five months of work.
"This week was a really good week," he said. "I would give myself a passing grade. My legs felt a little tired [Friday] from all the running, all the stuff like that. But, all in all, I feel really good. I'm looking forward to getting to play against another team, because we've been playing against each other so much."
Informed that Rivers had given him far better than a passing grade, O'Neal smiled.
"Oh really? Did he say that," he asked about being dubbed the camp MVP. "You know what, I really wanted to come in and take a lot of reps. Me and Kevin, we took a lot of reps [in camp] -- really trying to push me and push him. Because we know, at the end of the day, we're going to have to be pretty good for this team to be successful. It's been fun, it's been calm. I was a little nervous coming into a new situation [last year]. I knew the city was looking to win a championship. You want to battle for your spot and you end up getting hurt. It's tough. This year it's been more about being calm. Even when the trade came up [last week], it wasn't even -- I just wanted to figure out where I was going if I was going somewhere. More than anything, if I was going to be here, I was just going to focus on what I was doing."
A year of experience under his belt, O'Neal is more vocal on the defensive side, as he showed in Friday's intrasquad scrimmage. On the offensive side, he worked hard to get up the floor and get involved in the offense through the early post. He likes how his shot feels in the pick-and-pop. O'Neal thinks he can be a key cog on this team.
He feels he can be a healthy cog, too.
"Personally , I want to play 85-90 percent of the games," said O'Neal. "That's my personal goal. The last time I did that, I ended up playing like [70 games] in Miami [during the 2009-10 season]. And I had the same type of summer. So I look forward to that. I kinda know what it is, to keep the body healthy."
And if he can stay healthy, the Celtics can certainly use O'Neal. He's not even worried about minutes.
"Whatever Doc has for me," said O'Neal. "Again, I think did a really good job of taking a lot of reps in training camp, so we'll just play it by ear. My goal is to stay healthy, so that when Doc calls on me, I'm ready to go. I just don't want to be hurt. That's where my mind is."