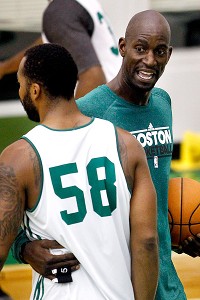 AP Photo/Steven Senne
Green vs. White in practice.WALTHAM, Mass. -- Celtics practices typically feature a fair share of 5-on-5 work with the team often divided into Green (starters) vs. White (reserves). Considering Boston has four All-Stars in the starting lineup, you're probably thinking that's not a very fair matchup -- especially when the Green gets to pluck White's talent whenever there are injuries, like Marquis Daniels shuffling up in place of Paul Pierce on Tuesday.
So maybe it'd come as a small surprise to hear Doc Rivers report that white dominated the early days of training camp. Things seem to have evened up a bit since then and Rivers detailed Tuesday how the Green had dominated the most recent session. In fact, looking to give White a confidence boost, Rivers set up a one-play finish to Tuesday's session.
"We challenged [White] because Green had a good day," said Rivers. "So we were praying that White scored on an [after timeout play] at the end of the practice, just so they could say something to Green."
Chris Wilcox delivered a two-handed baseline jam before Kevin Garnett could shuffle over to defend the rim and Rivers delivered high-5s to the reserves as the team huddled to close practice (all while Garnett and the starters were seething).
"[White] did [score on Green], but trust me, it wasn't the play we ran -- I can tell you that," joked Rivers. "That was nowhere near what I drew up. I don't know what happened. But they got a dunk out of it, so that was good."
The Celtics are hoping for increased contributions from an overhauled bench and the inspired play by a White team headlined by the likes of Keyon Dooling, Marquis Daniels, Chris Wilcox, and Brandon Bass has Boston confident it can get more from the reserves than it did a year ago.
"Every year you try to build your bench and some years we've been successful, and some years we haven't. Last year, we failed miserably," said Rivers. "The bench didn't save us, ever -- it lost some games for us, but it didn't save us a lot. This bench, the one thing I do like, they're not going to back down. That doesn't mean they're going to play well, but they are a tough group. They respect the starters, but that's about it. That's all they're getting."
The Green has been getting a handful from the White this preseason. Better yet, Rivers likes how members of the White squad seem to understand their roles and aren't secretly daydreaming of their chance to run with Green.
"[The bench is] role players understanding they are role players," said Rivers. "We've got a group of guys that clearly know who they are. They are also very comfortable in that. They think they can play as well as the starters, but they accept where they are at."