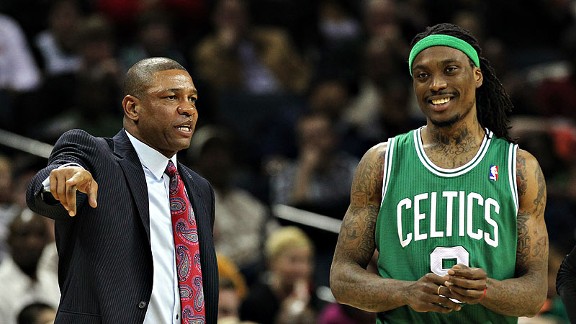 AP Photo/Bob Leverone
Celtics coach Doc Rivers is excited to be coaching Marquis Daniels again.Less than a year removed from spinal surgery, Marquis Daniels has worked his way into a possible start on Christmas Day:
Lazarus himself never dreamed of this: Marquis Daniels, back from the hospital bed, back in basketball, back in Boston.

Or this: Marquis Daniels, risen from the basketball graveyard, from the stretcher where he lay following a collision with Gilbert Arenas in a February 2011 game against the Orlando Magic, risen from an Atlanta surgical ward, where earlier this year Daniels underwent extensive spinal surgery from which he has fully and remarkably recovered.

And yet here is Marquis Daniels, not only upright but svelte and strong, not only back but rust-free, impressing coaches and teammates alike, not only here to help the Boston Celtics' bench but, with captain Paul Pierce sidelined with a bruised right heel, ready to potentially suit up and start on Christmas Day in New York.

"When it happened," Daniels said of his injury, "doctors told me, 'We can't let you play no more.' And I was like, 'As long as I can walk, I'm all right.' But 10 months later, everything is good."
Hop HERE to read the full story.