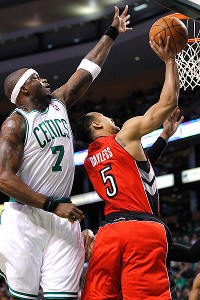 Greg M. Cooper/US Presswire
Jermaine O'Neal was a shot-blocking machine Wednesday night vs. Toronto.A healthy Jermaine O'Neal would go a long way for the Celtics this season:
Jermaine O'Neal quietly, but hardly unobtrusively, left the Celtics bench midway through the third quarter of Wednesday night's exhibition game against Toronto and headed to the locker room.

Normally, that would be a red flag the size of Alaska.

But on this night, it was merely an official recognition on the part of the Celtics and their one (and only NBA-ready) center that it was time to call it a night. He wanted a massage and his coach, Doc Rivers, was only too happy to accommodate.

"He's old,'' Rivers said of his not-that-old (33) center. "I didn't want him falling asleep on the bench. I told him he wasn't going to play a lot anyway."

By the time the final horn sounded, and the Celtics had their 81-73 victory, O'Neal had, as they say, left the building.
Hop HERE to read the full story.