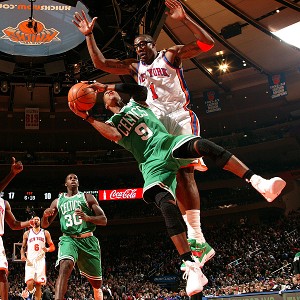 Nathaniel S. Butler/NBAE via Getty Images
With 31 points and 13 assists, Rajon Rondo quickly put offseason trade rumors behind him.Although the Celtics came up short on Christmas Day in New York, Rajon Rondo's aggressiveness was a welcome sign for Doc Rivers:
Well, how does 31 points, 13 assists and 5 steals in the season opener look right now? All that trade talk leading into the season sure seemed to be bothering Rajon Rondo on Christmas Day, didn't it?

You half-expected something like this from the Boston Celtics' point guard and de facto leader, especially with Paul Pierce sidelined. Getting Rondo to be even more aggressive and assertive than usual -- and that is asking a lot -- has been one of Celtics coach Doc Rivers' main goals for the 2011-12 season. Let's just say that despite the 106-104 loss to the New York Knicks on Sunday, the sight of Rondo driving, colliding, shooting, passing, defending and thieving for more than 41 minutes constitutes an inarguable bright spot for the day.

"This is the Rondo we want," Rivers said after the game. "This is what we talked about last year. Getting to the free-throw line. Taking the shots when they're open. I thought he was the aggressor in the game. I don't know if [he] can do that every night, but overall, that's the Rondo that we want. It was terrific."

You can thank Employee No. 9 for keeping the Celtics from sliding into the Hudson River in the first half, which saw New York take a 17-point lead in what looked to be an impending blowout. Kevin Garnett and Ray Allen were, to be charitable, slow to the take. Had it not been for Rondo and, later, Brandon Bass, the Celtics would have been buried even deeper than they were.

"He attacked. He attacked early. He set the tone, got into the paint, softened up their defense," Allen said. "It's a great sign for us."
Hop HERE to read the full story.