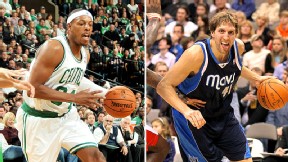 Getty Images, US Presswire
The Celtics and Mavericks have rebounded a bit from their shaky starts to the 2011-12 season.Did Boston's 0-3 start hurt its potential for success during the 2011-12 season? Basketball Prospectus crunches the numbers

and suggests that little has changed for teams like the Celtics and Mavericks -- but their title odds weren't very good to begin with:
Before the season, [Basketball Prospectus] took SCHOENE's baseline projections and ran 10,000 simulations of the season to establish the probabilities for each team's outlook. After last night's games, we ran the simulations again, only we plugged in the actual results of the 75 games played this season. The probabilities aren't that much different. On average, Boston won 35.8 games in our preseason simulations. The revised average is 35.7 and the Celtics' probabilities for a championship have dropped from 0.8 percent to 0.7. Dallas started off at 36.8 and now its win projection is at 35.3, but because of changes elsewhere in the West, the Mavericks' title chances have actually risen from 2.2 percent to 2.3. (Dallas' title odds are better despite the lower win forecast because Boston has to contend with Miami and Chicago in the East.)

By the end of the season, it's likely the standings will look much more like we expected than they do today. Even though it seems like an awful lot of NBA basketball has been played since Christmas, it's only been 75 games. Even in the shortened season, that accounts for just 7.6 percent of the schedule. If you, like us, had more or less buried the title chances of the Celtics and Mavericks before the season, then by all means continue to do so. However, if you have a rooting interest in one of those teams and are clinging to the belief that there is another championship run in the offing, nothing that has happened should dissuade you from doing so.
Hop HERE to read

the full story.