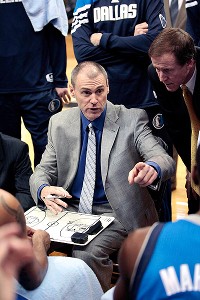 AP Photo/Stacy Bengs
Rick Carlisle and the Mavs have struggled at the start of their title defense.When they meet Wednesday night at TD Garden, both the Celtics and Mavericks will be searching for a spark after lackluster starts to a shortened season:
The Mavericks have struggled on both sides of the ball thus far. Their defensive efficiency, ranked 19th in the league, is only slightly better than Boston's, and the Mavs haven't made up for it on the offensive end. Dirk Nowitzki and Jason Terry are the only Dallas players with double-digit scoring averages, at 19.0 and 14.3 points per game, respectively, and the team's 92.8 ppg average is good for 19th league-wide.

"Honestly, it's just not making shots, if you want to simplify it," Rivers said of the Mavs' woes. "I watched their last game and Nowitzki doesn't miss the shots that he missed the other night. Odom is still trying to get his rhythm. They made a lot of changes, and so what's different with them is they don't have the same rhythm yet that they had at the end of last year. And that's not surprising."

One of the biggest changes for the Mavericks was the loss of center Tyson Chandler, Dallas' defensive backbone and a large part of its 2010-11 title run, who wound up in New York as part of a sign-and-trade with the Knicks. Chandler's absence robs the Mavs of their defensive high ground, a hole that Dallas hopes newly signed 7-footer Yi Jianlian can help fill.

Asked whether the Mavs' defense is markedly different without Chandler, Rivers said, "It is a little bit. Chandler, what he did, he was the last line of defense, and not having him back there [hurts them]."
Hop HERE to read the full story.