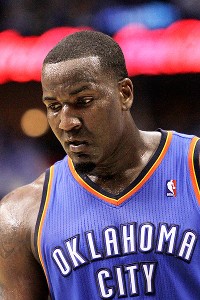 AP Photo/Tony Gutierrez
Kendrick Perkins with the Thunder.PERKINS PREPARES FOR AN 'EMOTIONAL' RETURN
He'll be No. 5 in Oklahoma City blue, orange and white -- and you may indeed need a scorecard to recognize Kendrick Perkins. He, not Charles Barkley, should be doing the ads for Weight Watchers.

Perkins is lean -- some 37 pounds lost, according to one report -- and, he says, still capable of being mean. Nonetheless, as he prepared to face his former team Monday night at TD Garden for the first time since being traded almost 11 months ago, he admitted to being a bit wistful about returning to Boston to play the Celtics.

"It will be emotional, I'm sure," Perkins said Monday at the Thunder morning shoot. "But you have to remind yourself where you are and remember that it's a basketball game. You had friendships with these guys, so it's hard. But I'm going to have to put my scowl on because I'm pretty sure KG [Kevin Garnett] is going to have his scowl on."