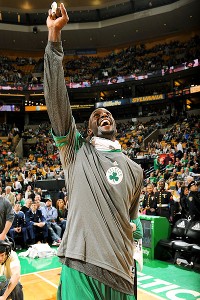 Brian Babineau/NBAE/Getty
Kevin Garnett enjoys a glimpse of Gino on the JumboTron Wednesday.When it comes to his teammates, Kevin Garnett is nothing but supportive. But in dealing with matters related to himself, the Celtics' forward isn't afraid to be overly critical.
So it's no surprise that Garnett's been on a quest for answers lately, as in the five games prior to Monday night's 96-73 blowout win over the Toronto Raptors, he found himself mired in an uncharacteristic shooting slump in which he made just 27 of 68 shots (39.7 percent).
Perhaps not coincidentally, the Celtics lost all five of those games.
But it was just a matter of Garnett getting himself back into character, which he was in Monday's win, in which he scored 15 points on 5-of-7 shooting from the field and 5-of-6 shooting from the free throw line, adding seven rebounds and two assists in 25 minutes of action.
Video doesn't lie, and, knowing that, Garnett consumed hours of it in recent days, including Monday, in an attempt to assess the issues that had been plaguing him, and to give himself a reminder of the things that have brought him so much success over his 17-year career.
"Today, I actually sat with a couple of the coaches and just went through my own personal game," Garnett said after Monday's win. "I critique myself probably as hard as anybody that I've ever played for or any organization that I've been a part of, even with summer play, Olympics, whatever you want to call it. I've always critiqued myself from a real perspective, and tonight I felt like I was really under control, I wasn't rushed, and I think it was because, I've actually -- these last couple day -- been really, really keying on watching film, really standing up."
Garnett didn't stick to the most recent footage, either. He went way back, even resorting to a form of technology that's all but extinct these days.
"I had to go back to the classroom and have more of a student attitude, kind of look at the things that have worked for me in these years," said Garnett. "Believe it or not, I had to pour some tape out that had dust on it, and some of the tapes were VHS tapes, man."
Garnett couldn't help but give a short laugh at the thought of VHS tapes helping to turn his game around, but, at the end of the day, they played their part.
Garnett didn't rifle off shots at the same pace he had in recent games, but he improved in the efficiency department. He scored Boston's first basket of the game -- an 18-foot jumper from the right elbow off of a feed from Ray Allen -- and followed that up with two free throws, another jumper from the right elbow off of a pass from a driving Paul Pierce, and closed out his 8-point first quarter with a left elbow make that gave Boston a commanding 23-9 advantage.
Garnett's quick start greatly factored into Boston's advantage (the C's led 29-14 at the end of the first quarter), which in itself solved an issue that had plagued the team in recent games. The C's assumed their first double-digit lead in nearly two weeks.
"Patience," Garnett said of what was most important to him on Monday. "I had more balance. I didn't really think a lot. I reacted. And that's basketball. Obviously, you have to think about some things, but for the most part, I attacked when I had to."
Garnett added three more points in the second quarter, two in the third, and three in the final frame, as the Celtics steadily built up a lead the Raptors had no hope of overcoming. And, perhaps in the most appropriate of fashions, Garnett spent the majority of the fourth quarter resting on the bench, rising up only to take in the sights and sounds of Gino and the American Bandstand crew on the JumboTron celebrating a rare lopsided win.
Garnett, standing by himself on the side of the court, couldn't help but rifle off a move or two of his own.
"That wasn't dancing," he later joked. "That was moving side to side."
The dancing can wait. But KG's moves on Wednesday -- the ones on the court -- certainly helped the Celtics force their five-game losing streak to boogie on out of Boston.