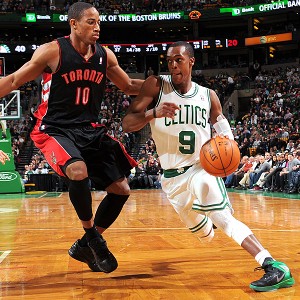 Brian Babineau/NBAE/Getty Images
Rajon Rondo started fast and sparked the Celtics' offense vs. Toronto.C'S CALL A REVERSE: RONDO SCORES, PIERCE FACILITATES
You can sorta envision the Celtics lounging around in their locker room before Wednesday's game against the Toronto Raptors, everyone starting at the scouting reports in silence and racking their brains for ideas on how to get the team back on track amid the worst losing streak of the Big Three era.

Suddenly, the captain's voice rings out.

"Hey, Rajon, you want to switch roles tonight?" says Paul Pierce.

"Word," replies Rajon Rondo.

OK, so it was probably a little more complicated than that, but Rondo admitted that something to that effect went down as Pierce, struggling to generate consistent offense as he works his way back into game shape after missing training camp with a heel injury, morphed into a Rondo-like facilitator and Rondo increased his scoring output.

Rondo converted 7-of-8 shots, all but one at the rim, and got to the charity stripe for a Pierce-like 11 attempts (connecting on seven) as part of a 21-point effort to spark the Celtics to a 96-73 triumph over the Raptors at TD Garden, snapping the team's five-game losing streak.