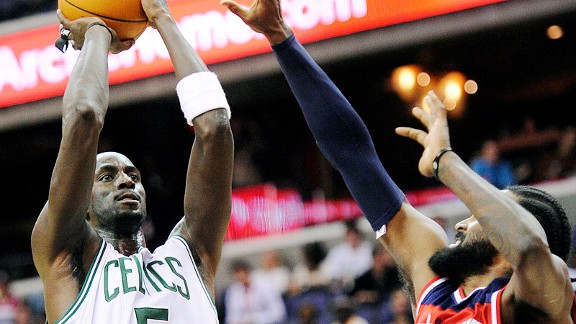 AP Photo/Nick Wass
The Celtics and Wizards clash yet again on Sunday.The Celtics (5-9, 1-4 away) and Wizards (2-13, 2-7 home) meet for the third time in less than a month Boston travels to the nation's capital Sunday for a matinee clash at the Verizon Center (1 p.m., CSN). Given the early start (and a far-too familiar opponent), we're going with a quick game of 2-on-2 with ESPN Boston's Greg Payne to preview this matchup:
---
1. What's the biggest problem with the Celtics offense right now?
Payne: A lack of balance. There has been very little consistency for Paul Pierce, Kevin Garnett, and Ray Allen. We're used to seeing the trio rifle off a fairly even number of shot attempts, but those figures have been erratic all season, and as a result, each player's individual scoring has been inconsistent. Until the Celtics find a way to get those three back on a similar track scoring-wise, I think we'll see the same offensive struggles that we've seen so far.
Forsberg: The problem? It's nothing but jump shots. Listen, the Celtics are actually an excellent jump shooting team (according to Synergy Sports data, they rank sixth in the NBA, averaging 0.929 points per play on jumpers, shooting nearly 40 percent from the floor overall on them). But there's a huge danger in leaning solely on jump shots, especially with aging legs, and Boston has little else in its arsenal at the moment (outside of Rajon Rondo-fueled transition). According to Synergy, 11.9 percent of the Celtics' offense comes off pick-and-roll plays in which the ball-handler creates the offense, but Boston is averaging a mere 0.685 points per play in those situations, which ranks 26th in the league. And the Celtics have virtually no post offense, with 10.1 percent of their plays generated there, but averaging only 0.786 points per play (15th in the league). Boston is shooting only 38.9 percent in the post, which is downright cringe-worthy.
---
2. If Boston wins today, half of its total wins will have come against the Wizards this season. How should Celtics fans feel about that?
Payne: I mean, it's not something you go and brag about, but in this league, a win is a win at the end of the day. Obviously it's been rough for Boston these first few weeks, so it's actually been helpful seeing Washington so many times. Right now winning disguises the issues of the club and helps to bolster morale. The C's need to use wins against these inferior teams to help solve their issues so they can finally knock off a legitimate opponent.
Forsberg: 'Depressed' was the first word that jumped to mind, especially considering the other half of Boston's wins have come over fellow Eastern Conference doormats in New Jersey, Detroit, and Toronto. The Celtics literally haven't beaten anyone with a playoff pulse. Alas, in a condensed season, you can't have a conscious about where your wins come from. The Wizards knocked off the Thunder this week and nearly toppled the Nuggets. The Wizards have plenty of talent and, ultimately, as Payne pointed out, a win is a win. And Boston desperately needs some wins.