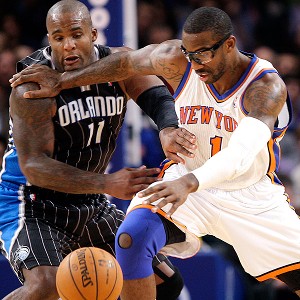 AP Photo/Seth Wenig
Glen Davis in his familiar No. 11, but unfamiliar pinstripes.BIG BABY WILL BE BIG STORY, BUT FOCUS SHOULD BE ON D12
This promises to be another T-E-S-T for the Celtics. Maybe they will join the Patriots and finally beat a team with a winning record. So far, the Celtics are a big oh-fer against any team with a winning record or legitimate playoff aspirations and 5-1 against teams with losing records. A bigger problem: four of their five losses to good teams (Indiana, Dallas, Oklahoma City and Chicago) have been at home.

While much of the Celtics' fan base will be focused on the return of Glen "Big Baby" Davis, the former Celtics sub is basically doing what he did in Boston. He's coming off the bench. He's playing a little more (22-plus minutes) while averaging 7.9 points and 5.1 rebounds. He will arrive back in Boston with a heavy heart of sorts, having just attended the funeral of his grandmother. He also arrives a little lighter in the wallet after having been called for a technical foul last week for -- we are not making this up -- pulling down his pants. (Thank the Lord he was wearing black Spandex underneath.)

Expect Davis to receive a nice ovation -- maybe not Perkinsian in duration or volume -- and he probably also will be given a video tribute during a timeout. The Celtics have been good to those who helped win a title and Davis also was a key guy for the 2010 team that almost won a second title in a three-year stretch.