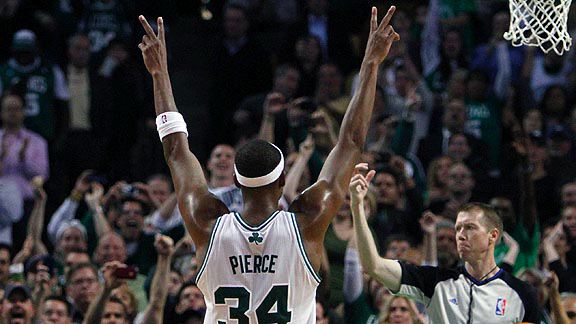 AP Photo/Michael Dwyer
A proven winner, Pierce could help several teams if the Celtics decide to deal him.ESPN Insider produces a double dose of Celtics' analysis Monday, first suggesting to blow up the core, then detailing five potential swaps for Paul Pierce. Here's a sample of each:
BASKETBALL PROSPECTUS: BLOW UP THE CELTICS
The Celtics' core started from such a high place that all through the erosion of their collective skills, they've remained a contender. It was inevitable that the day would come that this no longer the case. Folks, that day has arrived, and Ainge indeed needs to blow up this roster. One thing to keep in mind is that no matter what happens the rest of this season, the Celtics have almost no committed salary beyond this season except for Pierce and Rajon Rondo. So even if no attractive trade opportunities come Ainge's way, he's still going to be able to hit the reset button next summer. Starting over isn't easy. Trades and payrolls are restricted in so many ways by the league's collective bargaining agreement that it can be a painstaking process. For example, it's easy to think of reasons why Allen would be a coveted asset. He's in the last year of a contract that will pay him $10 million this season, and his ability to play off the ball and hit a high percentage from the outside would fit great on any contender in the league.
INSIDER: THE FIVE BEST TRADES FOR PAUL PIERCE
If Celtics President of Basketball Operations Danny Ainge wants to begin the rebuilding process in earnest, he should start with trading Pierce and getting good value in return. Pierce's contract is relatively friendly; he is owed about $48 million through 2014. Pierce appears to be close to fully recovered, so it behooves Ainge to trade him while Pierce's value holds and before another injury befalls the 34-year-old small forward. Though most of these trades might entail including other ancillary players, here are the central pieces to five trades that best fit Pierce and the Celtics.
The five swaps suggested in the Insider article:
1. Atlanta Hawks for PF Josh Smith

2. Memphis Grizzlies for SF Rudy Gay

3. Indiana Pacers for SF Danny Granger

4. Utah Jazz for Paul Millsap and pick, or Enes Kanter and 2012 draft pick

5. Houston Rockets for Kevin Martin and Patrick Patterson/Jordan Hill
Sound off with your thoughts in the comments.